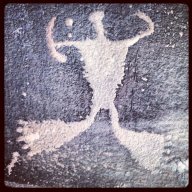 Joined

Oct 24, 2012
Messages

359
I was digging through some photos of recent trips to see if there was anything I could build a tale around. I pulled up a few pics from a Delicate Arch hike that my son and I did in December.
I hadn't meant to post anything about it. I mean c'mon.... It's Delicate Arch. Who hasn't been there? On a busy day it seems like a full third of the earth's population is visiting. Those who haven't visited the arch in person have seen the likeness on postage stamps, license plates, motel signs, and basketball uniforms. It's ubiquitous here. Delicate Arch is a cliche. Delicate Arch is an advertisement.
But going over these pictures reminded me that all the attention is rightfully deserved. Delicate Arch is still the most beautiful place on God's Red Earth.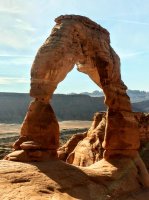 My love for the place is probably because it is the epicenter of my best memories growing up in Southeast Utah. It had been over a decade since I'd visited. I was hoping to share with my son some of the luster that had attached itself to my old memories. Time will tell how he will remember the trip, but for me... it can pretty much be summed up with 'Yep, Delicate Arch has still got it.'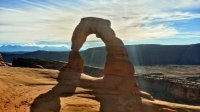 If you haven't visited yet, Delicate Arch is huge; way bigger than you think. Bigger than it looks in pictures. It is the star of the show. For all the loud conversation that takes place on the trail, the vicinity of the arch is usually all reverent undertones and smiling faces. Delicate Arch doesn't care about the crowds and the kids and the people and the truck stop down at the trailhead. Delicate Arch just stands there, commanding attention like an arena rock star with the silence cranked up to eleven.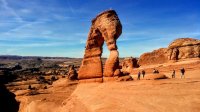 Even though Delicate Arch is the centerpiece, It's not the only reason to walk three miles there and back. Here are some more reasons:
The trail is a work of art. It is a great example of the journey being worthy of the destination. The last half of the trail is epic, and has about the best end-of-hike reveal that you're likely to see.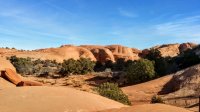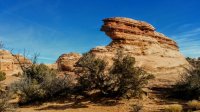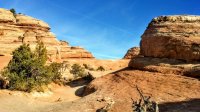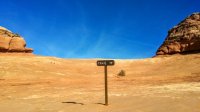 And that last climb...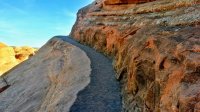 The arch and nearby vicinity sit at the edge of a tilted rock bench. The arch, the rocks, the trail, all sit at a crazy angle that lends a mind bending twist to an already convoluted geometry. It can mess with your head. It can bite into your subconsciousness and work its way into your dreams. For me, the tilt and the sheer drops on all sides give an electric rush of vertigo that makes me feel like I'm constantly on the verge of falling off an edge. I enjoy the feeling, you may not. I dare you to stand under the arch and look straight up. Be careful, it sits at the edge of a cliff.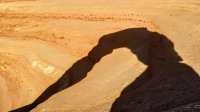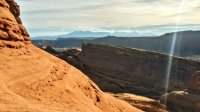 It is interactive. I mean you can walk right up under the arch. Walk as close as you dare to the cliff edges all around. Test the point of no return as the amphitheater in the foreground curves away beneath your feet. I understand now how my parents must have felt when we visited; for me it was a playground, for them it was a panic attack.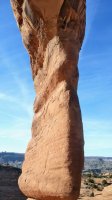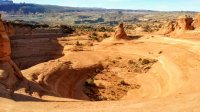 There is lots of other stuff to see. There are huge chert boulders, petroglyphs, carved stone stairs, an old log cabin...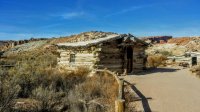 This arch...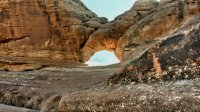 ...But wait to visit it until you are on your way back. Don't spoil the surprise.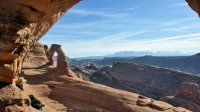 Once you've visited and know where it's at, you'll be able to pick out Delicate Arch from all over the park. It's there to be seen, but usually at an unrecognizable angle unless you know what you're looking for.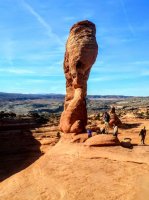 You can even see it from...(**SPOILER**)
the parking lot
Delicate Arch is famous and popular and it definitely doesn't need me to stick up for it. Don't visit expecting any sort of solitude or one-with-nature experience. You will cross paths with kids running around everywhere, people talking loudly about politics, smelly trailhead toilets, out of shape tourists that forgot their water. All of it. And after your visit, you'll drive away thinking it was totally worth it.