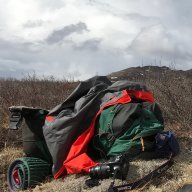 Joined

Dec 11, 2015
Messages

1,989
My wife and I were able to break loose for a night so we headed to Denali NPP to camp and spend a day in the Park. We were treated with a beautiful and relatively warm night and a stunningly beautiful following day. We drove to the Road Closure at Mile 30, stopping a few times to watch moose go about their day. We then drove back to hike along a ridge near where we had seen a couple of bull moose and cows.
With few clouds in the sky, Denali was out in full glory.
We spotted one bull caribou quite a ways from the road, but a caribou nonetheless.
We parked and started off on a game trail through the brush.
This trail eventually led to an old hiking trail that took us up onto the ridge and beyond. There is no sign for this trail and it looked to be abandoned.
Shawna on the trail.
As usual, there was wolf scat along the way.
A partially excavated arctic ground squirrel burrow.
Recent damage to a couple of spruce saplings either by a bull moose or caribou.
Another view of Denali with some clouds rolling through.
The trail heading up onto Primrose Ridge.
After reaching the top of the ridge in the previous photo, I looked over and saw this fat(!) sow griz.
She was feeding pretty intently on some plant that she was scooping out of the ground pretty easily. Not sure what (wild onions, some member of the carrot family?). I have mentioned in other TRs how they feed on
Hedysarum
in the spring and fall but this is not typical habitat for
Hedysarum
, so I don't know. Guess that gives me an excuse to hike back up next year and see.
Occasionally she would look around.
While watching the grizzly, we could see that at the top of the next ridge north, there were 3 Dall sheep rams feeding. I suspect they were the same 3 I had seen the week earlier about a mile southwest of here.
Meanwhile the sow continued to feed.
... and scan her surroundings.
And feed.
Shawna and I were sitting about 80-90 yards from her, with the sun mostly at our back. After about 15 minutes, it appeared that she might have noticed us. If she did, she wasn't too concerned and immediately went back to feeding.
At one point, a raven flew over us, squawking as it went.
I looked back up at the sheep through my binoculars. Three hikers that we had seen earlier were "stealthily" harassing them.
Eventually, the grizzly moved off and disappeared in the terrain. We had been watching her for about 45 minutes. What a treat!
Shawna along the top of the ridge, we were seated down the slope to the left of where she is now.
After the grizzly left, we hiked back to the van, staying on the trail the whole way back to the road.
We headed back to the park entrance but along the way, our progress was halted as we passed this cow moose about 20 yards off the Park Road.
She was nonchalantly feeding on the willows and birch shrubs. I love her golden cape.
Thanks for looking!