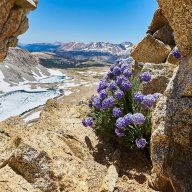 Joined

May 16, 2016
Messages

1,215
"The photograph didn't provide much detail: just a snapshot of Rene Compean's feet dangling over a bed of rocks during a hiking trip.
It was enough, however, for a complete stranger to help pinpoint his possible location and help authorities rescue the hiker after he was reported missing this week near Mount Waterman, a ski destination in the San Gabriel Mountains, about 50 miles northeast of Los Angeles.
While hiking on Monday, Mr. Compean, had sent a photo to a friend and said he was lost and his cellphone battery was losing its charge, according to the
Los Angeles County Sheriff's Department
. He was reported missing around 6 p.m., and the photo Mr. Compean took earlier that day was turned over to the authorities as search teams were deployed to start looking for him, the authorities said.
Unable to locate Mr. Compean through the photo's metadata — he had disabled his cellphone's location settings — the authorities disseminated it on social media, where it eventually landed on the radar of the Twitter user @ai6yrham, according to Sgt. John Gilbert, a Sheriff's Department spokesman."
"I've got a very weird hobby, which is I love taking a look at photos and figuring out where they're taken,"
Rene Compean, who had been missing in the mountains of Southern California, was found on Tuesday after a stranger deduced his location from a photo posted by the authorities.

www.nytimes.com