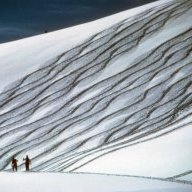 Joined

Oct 17, 2012
Messages

367
Wow!! What a crazy October!! It is currently -11 degrees F on the last day of October (Halloween), here in Steamboat Springs, Colorado. There is snow on the ground in the valley, and it is probably not going anywhere until next spring.
Beginning around Oct 10, we have had 6 measurable snow events. The results being about 25" inches that I've shoveled or snow blowed out of driveway and decks. (My house is at about 7000 ft of elevation) The Steamboat ski area has measured over 63" inches at mid mountain (9080 ft) and close to 80' inches at the summit (10600 ft). Both temps and snow amounts are definitely historical numbers. I've been living in Steamboat Spgs since 1974 and seen many different winter seasons. Up to this date, nothing of this wintery magnitude. All the landscaping companies are bummed out because they had roughly another month of leave raking and yard clean ups. Construction guys are a bit perturbed too. But then..... there is the ski area and Howelsen Hill.
https://steamboatsprings.net/131/Howelsen-Hill-Ski-Area
The both of them are dancing a jig, and making snow full tilt at these low temps.
Anyway.... we were planning on going down to Moab this week to camp and play in the red rocks and warm desert air.... until we saw the temps down there for this week. AARGH!!! So... I thought I'd ask how all of you Utah guys and gals are enjoying your October so far?
https://www.steamboatpilot.com/news...d-temps-in-routt-county-are-breaking-records/