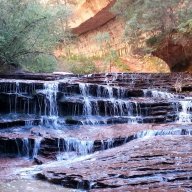 Joined

Dec 23, 2018
Messages

675
I just recently got back from a few days in Zion. This was a rescheduled trip from the spring due to the pandemic. Plenty of people in town and most wearing masks, distancing ,etc. but it was not overly crowded. I will admit it felt a little different this time but it was still an awesome trip. Sad to see Wildcat Willie's, a Springdale eatery for 40 years, had burned down. I ate there many times. They say they are planning to rebuild,
Day 1
West Northgate Peak
Only had a few hours of daylight left upon arrival and had to wait out a passing thunderstorm. Headed up KTR to do West Northgate Peak. A fun little ice-breaker for this flat lander.
Day 2
Destination Peak and Little Jenny Peak. I give
@fossana
credit for giving me the idea to combine these two into a single hike. I got off route a few times and had to do a little climbing here and there but nothing too sketchy. I will say downclimbing the short vertical section at the top of destination peak was a little problematic when the obvious hold on the left side of the corner broke off in my hand. I didn't bring a rope so I had to ever so gently hold (and hope) the remaining piece of rock as I downclimbed to the intermediate ledge below. If your doing this solo, my advice is to bring a short piece of webbing as there is a sturdy bush at the top of the climb. Route finding over to little Jenny from the west side of Gifford was fun and filled with skinny cracks and sandy chutes. And the views were outstanding.
Day 3
Separation Peak and Antler Point
I have been on the east side of the park many times but never explored west of Nippletop. I had seen a small peak off to the far southeast but found very little information about it so curiosity got the better of me and I decided to go explore. I hit separation peak first, then made the long and often sandy slog out to Antler Point. There was a little more up and down than indicated by topo but the beautiful scenery was worth every step.
Day 4
West Rim
This is one of the few official trails I had yet to do in the park. What else can I say except this is an awesome trail with so many dramatic views. Drop off at TH to pick up at grotto was 7 hours. I would love to do this one again as an overnighter camping at site 5 or 6.
Day 5
SGA Recon and random exploration
SGA is another one on my Zion bucket list. I didn't think I had enough gas in the tank to make the full trip but I knew I needed to verify the route down as I had read it can be pretty crazy. So I zig-zagged the ledges, cracks, and sandy chutes and sure enough made my way down into the left fork. I look forward to coming back in the future and completing this one. On my way back I decided to roam the west flank of North Guardian. It turned out to be quite the pleasant stroll.