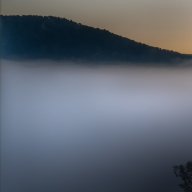 Joined

May 19, 2012
Messages

1,968
I recently started scanning some old slides, and I found a box with random images of ruins. From the date stamp on the slide, and looking at some old maps with my trips delineated with dates, I think I have an idea where this is. It might, however, be a well known ruin, I only saw one image in a Google search though. The structure at the end was spectacular, with that long "street" connecting it to the entry.
A view from the entry. I would assume that there were structures and a low wall along the edge at one time:
I have looked for shots on the other side of the building looking back but I can't find any. I seem to remember you could bypass the structure on the cliff side, looks a little sketchy though:
Completely intact, in beautiful condition:
Entry:
Lower structures:
So, If someone wants to help an old man with a bad memory it would be much appreciated. If this is a "seldom seen" ruin feel free to message me.
The page from Backpacker that I found:
I first became aware of the synergy of efficiencies within passive solar design on a hiking trip into the desert backcountry. I saw that the southwestern cliff dwellers, the Anasazi, benefited from passive solar design.
Last edited: