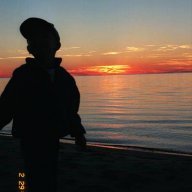 Joined

May 14, 2013
Messages

130
Ever since I ventured into the fringes of Beef Basin I have been itching to get back. I have to ask for vacations at the first of the year. So I picked the first week of May when my two sons would be out of school. 5 days. A friend ventured into the same area two weeks before and said that the road over the top had some puddles but was passable.
The weather report showed storms that were moving out and sunshine for the week.
We started out early my brother in his Cherokee and me in my Rubicon. We both were towing old military jeep trailers with extra gas, food, and water. Everyone has their preferred method of exploring. I love my trailer because it will follow my jeep almost anywhere. Then I can set up camp and take just the jeep to explore traveling light.
We arrived at the Beef Basin turn off by the dugout ranch just after noon. A group of jeeps had just crossed the river and were attending to a jeep that swallowed some water. They had just come over from Beef Basin. (They went in over Elephant Hill the day before.) They were muddy but said it was still doable.
Before we rounded Bridger Jack Mesa it started rain pretty good. As we passed the trail head for Salt Creek we were in the clouds.
About a mile from the pass where we would have started down I hit an uphill right hand turn that was impassable. The mud stuck to everything and totally clogged my tires. I felt like a piece of butter on a warm griddle. The mud was strange. It was about four inches deep then the ground was firm under it. Like thick chocolate cream frosting. But it was so sticky that it would not clear from the tires and they just balled up.
Luckily the road sloped towards the hill instead of off the cliff.
We were able to unhook the trailers and then get everything turned around and drove down the mountain until we found a place to camp. Our idea was to wait until the morning and try again.
Had Mr. Eubank told me that the "few lingering scattered showers" would have been directly over the road that I intended to take I might have changed my plans. As soon as we got the tents up it started to sleet. Then hail. All told about a half an inch of slush covered everything. DAA had warned me "That access might still be a bit dicey in May."
The next morning things were looking up. Skies were clearing and the sun was poking through now and then. We chased the road to the point overlooking salt creek. When we turned back towards camp the mountains were boiling with clouds and rain was falling right where we needed to go.
Thus our trip into beef basin ended and another started.
Hamburger rock camp site was full. $10 for a picnic table and fire pit. We drove on and found a very nice spot close to the road but away from everyone else.
There are so many roads around needles that I have wanted to chase. Now was my chance.
Hearts draw. I have always wondered what hearts draw looked like.
The weather turned fantastic and Harts draw was beautiful. We hiked a side canyon that has a spring. To our surprise we found zero evidence of early inhabitance. All we found were two old roads and cow pies.
Indian creek was flowing.
I wanted to explore Horse canyon but it was still closed. I don't know if it has been open in the last two years.
So the next day we got a permit and drove up Lavender canyon. What a beautiful canyon.
Things were green and flowers were in bloom.
The day before we had to head home we drove the road through Lockhart Basin to Moab.
Again the country was incredible. So many flowers were in bloom. We drove down Lockhart canyon to the Colorado River and the Globemallow were blooming everywhere.
The first half of the road was fine and you can make good time. After we examined an old plane wreck the road got much slower and quite a bit rougher.
The last bit down to the turn off to chicken corners was in bad shape.
Although we did not get into where we wanted the trip turned out fantastic.