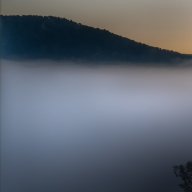 Joined

May 19, 2012
Messages

1,941
I am getting old. My car is old, my canoe is old. So I needed something new. I decided to act on 4 years of research and indecision and spend a lot of money and risk divorce to buy a new canoe. I have had our Wenonah 17'Adirondack for 13 years, a great big beautiful tandem boat that carries a ton of weight, so stable I can and have done the mambo in it. But it's heavy - 65lbs. And it sucks in the wind, I mean really sucks. Especially if you paddle it solo, even with added weight, or turning it around and paddling it backwards.
I have been enjoying solo trips more and more, so this boat was not working for me. So I bought a Northstar Northwind Solo BlackLite, consisting of Aramid, which is kind of their proprietary Kevlar, and carbon fiber. The finish is beautiful, inside and out. It weighs 29 lbs., which is fine with me, and is 15'-6" long. I had it out yesterday for the first time on Ruedi Reservoir near Basalt, gorgeous and no wind. Primary stability is not good, which I knew about and will get used to. But I found secondary stability really good, verging on spectacular, IMIO. It is a pleasure to paddle, is fast and responsive. I will have to wait to see how it does in the wind however. My next paddle I will load it up, maybe on a windy day. I have a solo trip planned in the Fall, looking forward to that.
At Ruedi reservoir, had the place to myself:
With my 17' Wenonah Adirondack:
Cheers.