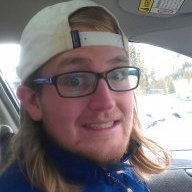 {insert witty remark here}
Joined

Jan 22, 2012
Messages

151
So, once upon a time, I really wanted to learn canyoneering, and learn it right. But alas, I knew no one personally at the time who was an experienced canyoneer. So, I turned to the one resource I had: school. I signed up for Canyoneering I (and two others) with the U. I was beyond excited. 2 credits to go on a trip. yep, sign me up.
So, I drove down solo Thursday night mainly because i wanted to get in a night by myself relaxing before being around a bunch of other people. I camped out near temple mountain (general area). I was planning on getting a bunch of star shots. But I was interrupted by this strange bright light on the horizon. I watched it for a while thinking it could be a car with super bright lights...an explosion? nope...its the moon. Brightest moon I've seen down there before, or at least that I remember. I tried to get some moon shots, but I wasn't prepared and never really have shot the moon. nor do I have the proper lens...
next morning I broke camp and headed to Stan's burger shop in Hanksville (yummy), met with the class and we went out camping. We learned a lot of basics and then we hit a few canyons. Friday I went down East Blarney and Saturday I went down East Shillelagh and West Blarney. All amazing and I think I've found another activity to soak up my money. I'm already shopping for canyoneering gear that I can't afford haha. Shillelagh was definitely my favorite, a cool 100 foot rapell and a skinny rapell in the slots that was like 60 feet I believe (one of our instructors just down climbed it!)
I got 3 nights under the stars. it was amazing. this shot was taken feet from where I slept.
View from my bed
by
Gareth Loosle
, on Flickr
and some star trails:
Startrails over Henry Mtns
by
Gareth Loosle
, on Flickr
Startrail Near Sandthrax
by
Gareth Loosle
, on Flickr
I'll post some more pictures when I get home from work.