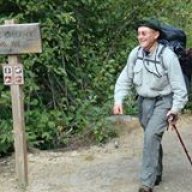 Joined

Mar 13, 2012
Messages

138
During the week of Nov 3, three of us attempted to hike the North Rainbow Bridge trail. I say attempted as we did not complete the full trail as the trail was more difficult than we anticipated and other reasons. This trail is truly in the backcountry as it is a 6 hour drive from Phoenix with the last 20 miles or so being on dirt (not gravel) trail roads with uncountable number of unmarked side roads (trail road is unmarked). A 4 wheel high clearance vehicle is REQUIRED for the last few miles (we had a AWD Rav4 and made it but did scrape bottom and spun out on a couple of places with the road totally dry).
Driving directions to the trailhead: From route 98 east of Page take Indian route 16 north for maybe 40 miles until the road essentially ends at a 4 way dirt intersection at a small Indian village. Continue straight thru the intersection with GPS active following the trailhead road. Contrary to published trip reports (mostly old), the trailhead is well marked and the trail is relatively easy to follow. The only caution is to pay attention to the cairns as there are numerous horse and cattle (yes cattle - have no idea what they eat) tracks which can be a bit confusing in a couple of places.
The weather was amazing with cool (or cold) nights and pleasant days providing great hiking weather. We started on the trail about an hour before sunset on Monday. we did find a camp site with a bit of water in an unmarked gulch about 2 miles in as it was already getting dark. Not a pretty camp site but worked.
To show it was chilly here is a picture of the inside of my tent. Yep that is ice. It took a long time to melt off.
The next morning we headed on towards Cha Canyon, Bald Rock and then to Nasja Canyon.
Some pictures of the journey:
Entering Bald Rock Canyon. This is a gorgeous canyon. Bewares the climb back out is not easy. Trail is fine just steep.
Looking down into Bald Rock
Heading down the trail into the canyon
Down in Bald Rock. One hikes a long way down Bald Rock before it crosses the stream and out the west side. Then there is a long climb over a high ridge to Nasja Canyon. There are camping possibilities at the crossing BUT MUCH better campsites are at Nasja Canyon (picnic table and all)!
Slick rock views coming over the ridges to Nasja Canyon.
Some color with the cottonwoods
Nasja Camp - There was shade but since it was cool we opted for sun .
Some views of Owl Bridge - just about a 1/2 mile past Nasja
A picture of what I guess is an old Navajo sweat lodge. Looks like it has been there a LONG time.
At this point we had to retrace and head out. A bit disappointing that we could not go on down to Rainbow Bridge but the scenery to this point was awesome. If you are hiking this trail, remember that there are some good climbs on the way out - the ups just seem to keep coming.
On last view back at the slick rock areas. Maybe I will either allow a bit more time and do the hike or do the easy one and just ride the boat to Rainbow Bridge.
Featured image for home page: