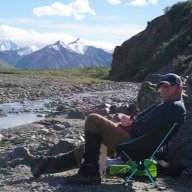 Formally known as "kcwins"
Joined

Aug 20, 2014
Messages

456
A couple of questions for you Sierra fans.

1. It seems most folks do the North Lake - South Lake loop starting at North Lake. Is there an advantage to going this way vs. clockwise starting at South Lake?

2. Shuttles. I normally hitch hike when in Glacier or the GYE, but not sure this is the best option with the group I'll be with. Is there reasonable shuttles there? Any suggestions?