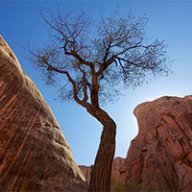 Joined

Aug 9, 2007
Messages

12,939
I had every intention to stay away from Lake Powell during the months of July and August. Stories of the crowds and hot, restless nights had made me look to September for the next trip down that way. But after having to cancel a trip in late June, I decided I wanted to do some boat camping over my birthday. We thought about all the options, and decided that warm water and sunshine was just the ticket, so off we went.
We arrived in Bullfrog late in the afternoon on the 5th of July. I was surprised and happy to see so many boats already leaving. It was pushing 100 degrees as we launched the boat and headed up lake. We had originally planned on heading down lake to get past the stained and muddy water from the runoff, but @
colefeet
was interested in coming along for part of the trip so we stayed a little closer to Bullfrog so we could swing over and pick her up midway through the trip.
It was late in the day so we went to work right away looking for a campsite. We found this gem just off the main channel, a little south of Hansen Creek and Crystal Springs Canyons. Unfortunately, it wasn't quite as awesome as it looked. The murky water tricked me into thinking that little bit of sand was enough to beach on, but in reality, there was only about 6" of water below my prop there. We went for a swim and then decided to go check around for better spots. We checked one canyon and it was packed, so we headed back and settled in for the night.
There wasn't any good sand to pitch our tent on, so we started building rock anchors. Not long after I asked Audra which way she thought the wind would blow, it started blowing. I had one anchor in place but the tent wanted to take off so Audra got in and held it together while I worked on anchors.
We got it up just in time for some amazing sunset clouds. Unfortunately, as soon as the sunset died off, the real wind came and flattened out our new tent. We tried for a while to add guy lines and more anchors, but soon we noticed the poles were completely bent. It got to the point that we decided to just lay it flat and go hide on the boat beneath tarps!
The storm rocked us for a couple hours that night. Never really raining much but lots of wind and lightning. The lightning never got very close though so I felt okay staying on the boat. It was a little unnerving there for a while, but soon it calmed down and we were able to relax and get some sleep right there on the boat.
The next day we were pleased to see a large number of boats heading back to the marina at the end of the holiday weekend. We loaded up and cruised up Crystal Spring Canyon to do some fishing and look for a campsite. As usual, Audra out-fished me. Here she is with her first striper of the trip.
The end of Crystal Springs Canyon
After checking out a few canyons, we went up Hansen Creek and found a sweet sheltered spot in our own private bay. Time to go swimming!
I hiked up to the rim above camp to see what there was to see.
That's our camp down below in this photo.
Another fantastic sunset the second night. The clouds lit up the other direction but I preferred the view the other way.
We setup the tent again that night but this time it was well staked. What I didn't anticipate was how ungodly hot it would be in there. We ended up with both doors wide open in it and we were still dying. The dogs were panting so hard that the air mattresses were pulsating. I think I went swimming at least 3 or 4 times that night. It felt great.
The next morning I looked up to see a little color in the sky. An incredible birthday sunrise greeted me when I popped out of the tent.
With some nice, iced coffee mixed up, we headed back to Bullfrog to pickup Jen.
After picking up Jen, we went and explored Moki Canyon before returning to our campsite. We did some swimming and then inflated the new tube and motored around for a while on it. I think it was more popular as a pool toy though.
We fished off the back of the boat throughout the trip. Catfish were beyond easy to catch and we also got carp and stripers. I even caught a little smallmouth up in Cedar Canyon the next day. I wanted to see what Sage thought of the catfish. She wouldn't get much closer to it.
Every night of the trip, we had a monsoonal storm hit us. It was always around the same time but usually cleared up before dark. I was really hoping for an evening boat cruise on my birthday and it wasn't looking good at first. But fortunately, it all cleared up and we went out for a late evening ride.
The next day we went north to Good Hope Bay with mimosas in hand.
Tapestry Wall
Water visibility got worse the further up lake we went. The scenery up that way is spectacular in that 'most people wouldn't think so' kind of way. Big wingate walls and huge vistas. Once the water clears up, this area supposedly has some of the best fishing on the lake. I'll be back. That's me and my wife Audra taking a dip in Good Hope.
We explored a few more canyons before heading back to camp and spending another afternoon playing in the sun.
I made a sticker for the porta potti that goes with the boat name.
Almost right on queue, the storms kicked up in the evening. The light was cool. Here are some of my pups posing on the dome next to camp.
Our second pool noodle score of the trip washed up on shore as the winds were picking up. Turns out they're fun for firing up dogs too!
These ducks visited us a couple times during the trip. They were down one the last night though. You can tell they get fed a lot around here as they readily responded to 'quack!'.
The lightning got really bad that last night. We ended up abandoning the boat for a game of Uno in the big tent. Eventually it cleared up though and we went back out for the final evening on the boat. Another late night swim was in order. Audra and I ended up sleeping on the boat all but one night of the trip. I've decided I'll probably only bring a tent for emergency purposes out there from now on.
The next morning we packed out and headed back to Bullfrog. I tried my best to delay the trip back to reality. First with a stop for some cliff jumping.
And then some trolling.
And finally, one last swim session right before pulling the boat out. It was an incredibly fun trip. Can't wait to go back.
Full album here.
Featured image for home page: