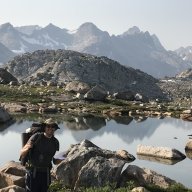 Joined

Mar 1, 2015
Messages

524
I want to wander around the North Fork Bull Lake Creek area sometime before I die (including Shangri-la, "Glacier Panorama" (up near the base of Blaurock Pass), maybe even North Indian Pass or Horse Ridge, etc.) What is the best way to get to this area, assuming I want to keep this to 6 days or so (i.e., no WRHR thru-hike)? Here are some options that I am aware of, with their pros/cons:
The shortest approach is from the NE, from the Cold Springs Trailhead (please correct me if I am mistaken). This is definitely the approach I would choose (assuming North Indian Pass isn't too hard, which it might be), except that you have to pay for not just the reservation permit but also for a guide to drive you to the trailhead, which is very expensive. So this is probably never happening. It would sure be sweet to hike in to Don Lake, then do a diversion to Horse Ridge, then drop down N. Indian Pass to NFBLC area, then go over Blaurock Pass and loop around back to the trailhead though (that sounds like an awesome 7-day trip to me).
You can hike in all the way from the Glacier Trail and over Blaurock Pass. This is a very long approach followed by a difficult/tedious pass (Blaurock), so I'm not sure this will ever happen either. Like most people, I strongly prefer loops or point-to-points over boring in-and-back routes, so an in-and-back route with that long of an approach will probably never rise to the top of my list no matter how nice the destination.
You can hike in from Indian Pass over the Knifepoint Glacier. This is also an in-and-back route, but it's a little shorter.
You could combine the above two routes by doing a point-to-point hike between Elkhart Park to Glacier TH (via Indian Pass and Blaurock Pass). This sounds like a blast but the shuttle is very expensive since the trailheads are so far apart.
Maybe you could go from Elkhart TH to Bonney Pass down the Dinwoody Glacier to the top of the Glacier Trail then up Blaurock Pass and down into the NFBLC area then return via Knifepoint Glacier and Indian Basin? My impression is that Bonney Pass and Dinwoody Glacier would be tougher than these other passes (Blaurock/Indian/N. Indian), which are already probably the very hardest terrain that I would be willing to attempt.
Here are my questions:
Are there any other approaches or routes that I am missing? I feel like none of the routes listed are ideal, and I am open to other suggestions.
Is my impression correct that the Bonney Pass/Dinwoody Glacier route is harder (or requires more mountaineering experience) than the other routes?
I'm thinking the Knifepoint Glacier in-and-back route is probably the best. I have never been on a glacier; is this a suitable first-time glacier experience, or am I just asking to die? I have microspikes, crampons, an ice axe, and a helmet, and have a little bit of snow climbing experience here in CO (we don't really have real glaciers in CO though). I'm guessing I would probably bring my Kahtoola KTS (strap-on) crampons, and leave the axe/helmet at home. Does that sound about right? Or would microspikes be sufficient? If that depends on the time of summer, any tips in this regard (which time of summer is best?) are appreciated.
Thanks in advance for any feedback!
Last edited: