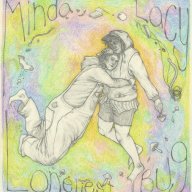 Joined

Mar 10, 2016
Messages

144
After a dump truck hit-n-run changed my plan, an active burn in Glacier Wilderness decided to join the party and change it again. So I wound up in the Alpine Lakes Wilderness. Not a bad place to wind up. Days 1-2 were wet and cloudy, clearing completely by day 3 and on through day 5. I LOVE the forests of Washington ! They are without parallel that I have yet seen. I headed up East Fork Foss River to Necklace Valley, camping 2 nights in meadows because they were so darn cute, before getting high and finishing off at Tank Lakes for 2 more. Huckleberries and blueberries were plentiful and delicious down low, but the blackberries ? boysenberries ? were too tart and bitter.
Typical trail.
The mossy wall.
Creek xing.
Portal to the upside down.
Creek.
Public shelter, not very well maintained inside though.
Rock under flowing water.
Home for 2 nights.
Lake Al-let.
Locket Lake.
Shoreline.
Clearing over meadows.
Getting high.
Glacier Peak in distance.
Tank Lakes home.
Williams Lake below Summit Chief and Overcoat Peaks.
Horrible pic of foggy sunrise from camp.
Cloud river.
out.