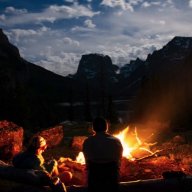 Joined

May 3, 2018
Messages

283
Hello again, the continuation of my catch-up continues!
Lacey and I had a 3 day 2 night trip in the north cascades on...
...Labor day weekend, during the pandemic. Everyone in western Washington was marching toward the mountains and I knew solitude would be scarce. In an attempt to find lonesome glee on such a weekend I got a cross country permit from the North Cascades National Park complex to camp in the Dee Dee Lakes cross country zone which is in the Lake Chelan NRA which is governed by the North Cascades NP Complex. We saw a few people during the weekend, not a lot, but had both nights at the lake to our selves!
The hike in is nothing spectacular. Lots of burn, not many good views.
Dee Dee Lake and Mcallister Mountain from the spot we will set our tent up at! Time to fish!
This lake was super stocked or something because there were tons of fish pretty much on every other cast we got a fish. They weren't very big though. I should also note I have heard that the lake in the summer is supposedly ultra-buggy.
Sunset over Rainbow ridge.
THE PROGRESSION OF MOONRISE AT NIGHT
Day 2 we woke up to the sound of a lone wolf howling! We waited some but no more noises could be heard. It definitley wasn't close but it wasn't far either. So, we started the day with more fishing. There was a scree peninsula on the other side of the lake that we took advantage of which happened to have a neat view of the other direction.
You can see our tent!
I got tired of fishing and went exploring up on the Mcallister Ledge. Larches were everywhere up there (a pine tree that turns gold in the fall) my favorite tree!
It took some scrambling and route finding through about 400 feet of trees onto the first scree field. From there it was straight up to the ledge.
Up on the ledge!
The view from the other direction. The lake I came from.
I slowly made my way back down to have dinner and relax some more.
Sunset on Mcallister
When it got dark it was bed time. There was a burn ban and even if we could we couldn't as fires are banned in cross country zones in North Cascades NP.
On day 3 we packed up and hiked out. Relaxing place.