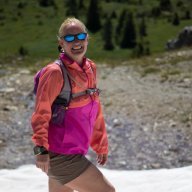 Joined

Dec 30, 2015
Messages

194
I am a complete noob when it comes to back packing. I did quite a bit of camping when I was a kid and some as an adult but no backpacking. The beginning of this year I developed and interest in backpacking and have been reading and researching and trying to learn. I live in Florida so there isn't a lot of resources down here. But I did find a local chapter of The Florida Trail Assoc. and got involved with them. I have been on a couple of overnighters with them and learn something new each time.

We were out again this past weekend, the trails were really wet still from all the unusual winter rain we have had. I had several "firsts" this weekend. First time I have ever filtered water with my sawyer and drank it. First time I have ever seen a water moccasin. First time I have ever seen someone start a fire with a bow drill.

These may seem like little inconsequential things but to someone just starting out it was pretty cool. Filtering water was super easy with the sawyer squeeze and to my surprise didn't taste bad.

The water moccasin...not my favorite. He looked almost like a stick in the trail and I'm not sure I would have spotted it if I was just cruising along on my own. That spooked me. I have to learn how to enjoy the scenery but still pay close attention to the trail. I learned that the best thing to do is just back up, not crowd the snake and he will usually move on. The guy leading said the cotton mouths will stand there ground if you crowd them so that's why you just back up and wait.

The other guy who started a fire with a bow drill, that was pretty cool. It took him a couple of hours from selecting a palm frond to whittle down for the drill part, making bow and actually starting the fire. But he got it done and it's nice to have seen it first hand to know that I could at least attempt it in a pinch.