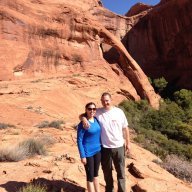 Joined

Jan 26, 2014
Messages

10
Hey Y'all,

Been lurking around BCP for a while mooching on all your great trip reports. Figured I better join and start sharing myself.

I am planning a trip at the end of March. Wanted to do Death Hollow via The Boulder Mail Trail. A little concerned that it is going to too cold but also figure that it will be just part of the adventure. Please chime in and tell me if I am foolish for going this early in the season.

If I do go ahead with the trip I will post a TR so others will have an idea what it's like this time of year.

Happy hiking!