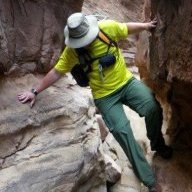 Joined

Jan 17, 2012
Messages

1,677
On Sunday, February 1st, I met up with Randy (
@IntrepidXJ
) and Diane in Wellington and we drove to Nine Mile Canyon to revisit some rock art sites and look for new ones. I'd already been to the first place we hiked to, though I noticed a few things I hadn't before.
I'd seen this petroglyph panel before but didn't notice how this one wraps around the corner
Sheep and canine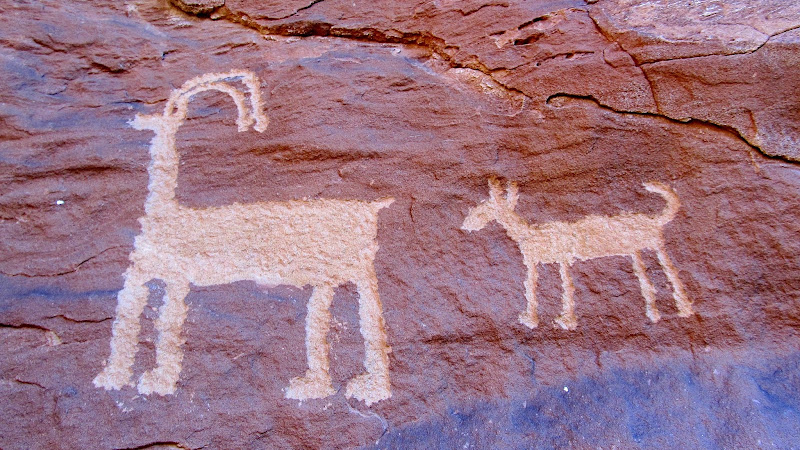 My Grand Cherokee and Diane's Edge
We drove some more along the Nine Mile road and stopped occasionally whenever Diane spotted something worth stopping for--since Randy and I were both driving, Diane had the luxury of keeping her eyes peeled for rock art. We saw a very interesting Ute petroglyph panel that, according to Tom McCourt in his book
The Split Sky
, may represent a meeting between Ute Indians and General William Ashley and company in 1825. We saw other random roadside rock art and a few high-up petroglyphs that will be worth returning for to get a closer look.
Death Star
Ute petroglyph
W.L. Camp 1890
Ute petroglyphs
A great, high-up petroglyph panel that I need to climb up to someday
Badly weathered Fremont figure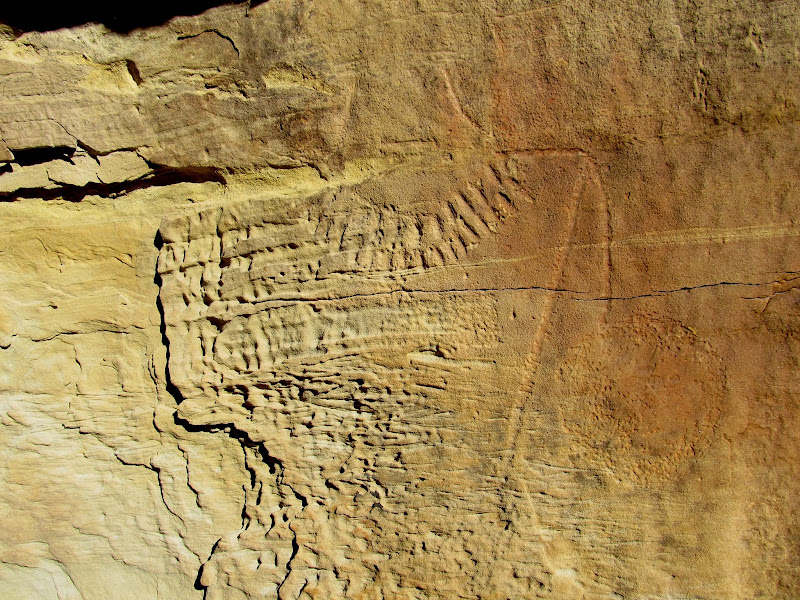 To end our day we planned to visit some petroglyphs that Alan and I had visited last year. On our way there we unexpectedly saw and stopped to talk to Celia, a Facebook friend of both Randy's and mine that neither of us had previously met in person. We gave her directions to some rock art she was looking for, and in exchange she told us about a site that I hadn't been to. Randy, Diane, and I continued to our final destination and visited some really good bighorn sheep petroglyphs. When Alan and I had found them last year, we were actually looking for some bighorn petroglyphs that were described to Alan as being four feet tall, but we never did find anything fitting that description. I mentioned that to Randy and he was game for searching for the larger sheep. We did some scrambling and climbing up a steep hillside and eventually I spotted what we were after. The petroglyphs were two cliff bands above us, and we had to find a way up one cliff band and then traverse a steep slope below the second set of cliffs until we were directly underneath the panel. The big, big bighorn sheep were indeed several feet tall--easily the largest I've ever seen. We hiked back down to the vehicles and parted ways there. Randy and Diane drove ahead on their way home while I slowly made my way out of the canyon, stopping often to scan the hillsides and ridgelines for ruins.
Randy below the big, big sheep
Big, big sheep panel
Big, big sheep panel detail
Photo Gallery:
Nine Mile Canyon VI: Big, Big Sheep