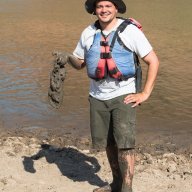 Joined

Aug 14, 2013
Messages

14
Ever since I first visited False Kiva in Canyonlands, I knew I had to get back there for some night shots with the Milky Way set above the ruin. Over the June New Moon, some friends and I made the trek out, only to find a "workshop" taking place. We figured that we could share the location as we were all there for night shots, and switch off and maybe bounce ideas for light painting. That wasn't the case as the group turned pretty aggressive on us saying things like "We were here first" and "looks like timing is everything..." It got worse as the night progressed as we proposed taking turns with different techniques as their "Instructor" felt it was best to light the whole thing up with a small LED headlamp that cast cold, harsh light - not what I was going for. Anyway, as we made our setup, he started to tell his group how absurd we were and that our ideas were terrible. It was a great night haha. We decided to wait them out and took our photos after they left to avoid a bigger conflict. Some people... Anyway, here's a shot I liked, along with a few other shots from Canyonlands and Arches:
This shot from Aztec Butte proved to be a little more peaceful, minus the Rattle Snake that decided to visit shortly after dark while we were shooting. We gently helped him find a new location down the ledge:
We spent the next night shooting Balanced Rock and Turret Arch in Arches National Park - minus and D-Bag workshop instructors:
Hope you enjoy!
Featured image for home page: