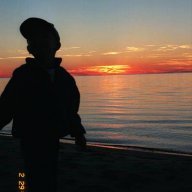 Joined

May 14, 2013
Messages

130
Wanted to get away over Easter and explore someplace new.
The Newfoundland Mountains fit the bill perfectly.
Again it was the two boys and I.
There are three ways out to the Newfoundlands.
From the North via the Hogup Mountains.
From the East along the rail road grade via Lakeside.
Or from the West along the rail road grade via Lucin.
Driving along the railroad right of way to my understanding is illegal.
Here is a picture of Governor Bangerters pumps along the road from Lakeside.
This trip we mainly explored the west side of the range and camped in a valley called Miners Basin.
The Newfoundland Mountains are very remote and rarely visited. All the web sites that we looked at prior to our trip stated that getting help out there would be a long time coming. We took two vehicles and extra supplies just to be safe.
Miners Basin was the site of a small mining town called Boston Terrace which was settled in the 1860s. During the heyday there were many active mines that produced copper, lead, silver, bismuth, tungsten, molybdenum and gold. Today all that remains of Boston Terrace are some partially collapsed rock buildings.
There was some evidence of active mining undoubtedly because at that time the price of precious metals were skyrocketing.
The Newfoundland Mountains are a lonely and sterile place.
We spent four days and three nights out there and saw only one other person. Wildlife wise we saw one bighorn sheep, a handful of birds, ants, and two flies. Nothing else.
The middle day of our trip we spent climbing to the top of Desert Peak which is the highest point in the range at 7005 feet. We hiked from the lowest saddle on the right. (Picture below)
It took us about two and a half hours to climb to the top and forty five minutes to climb down.
The register at the top had logged about thirty entries in the last ten years.
The view from the top was incredible.
Looking south.
Looking North.
Pilot peak.
Our last night it got cold and the wind started blowing. In the morning everything was coated with snow and frozen.
Wash water. Aka Wyoming Frisbee.
We left the The Newfoundland Mountains and ended up in Lucin. Not much left of Lucin.
Then we looked for and found the sun tunnels.
Reading other posts on this site it looks like if you have a Jeep you have to put at least one dedicated Jeep picture on your TR.
The Newfoundland Mountains are difficult to describe. There is so much more to explore that it calls to me. However it is so desolate and rugged that it will take time to build up the want to return.
Featured image for home page: