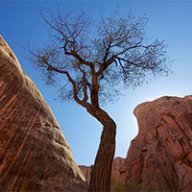 Joined

Aug 9, 2007
Messages

12,939
Just saw this. It's dated from April but I hadn't heard about it anywhere else. It's about time if you ask me, but I feel there is going to be a major enforcement problem.
------
For Immediate Release: April 23, 2015
Contact: Christiana Admiral, 928-608-6351,
Christiana_Admiral@nps.gov
New Waste Disposal Requirements for Coyote Gulch Visitors
PAGE, AZ – Due to increased visitation and the lack of toilets at Coyote Gulch, hikers in the popular Coyote Gulch area of the Escalante backcountry will now be required to pack out their own solid waste using a portable waste containment bag. Appropriate products should be specifically designed to treat human waste and capable of being closed securely. These items can be found in a variety of locations, including the Glen Canyon Natural History Association at the Escalante Interagency Visitor Center. Waste containment systems must be disposed of in proper trash receptacles. This is per Glen Canyon National Recreation Area policy for all slot canyons where a 300' minimum distance from water sources is not achievable.
For more information about backcountry permitting for the Escalante Canyons and appropriate sanitation options, contact the park by email at
GLCA_Carl_Hayden@nps.gov
or stop by the Escalante Interagency Visitor Center in Escalante, Utah. Visitors to these and all areas of the park are reminded to visit safely and with respect.