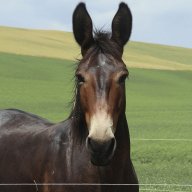 Joined

Jun 11, 2017
Messages

2,335
Setting: A dark and stormy night.
@Nick
and
@Artemus
are huddled in an REI tent somewhere high on the Bountiful Bench.
Nick (with concern): My anemometer says it's 11 m.p.h. out there, Art. What should we do?
Art (pragmatically, like Scotty the Engineer would talk): Well, you know what the REI salesman said we should do, Nick, why are you asking me?
(Both are quiet as they listen to the sound of the wind whipping the nylon.)
FInally, Art asks nervously: What's it say now?
Nick (breathing slowly): 12 mph. I'm getting pretty worried here, Artie my boy.
Art: Let's just lay low for a few more minutes and see what happens. It is raining pretty hard out there, you know.
Nick (now panicky): It's going up, Artie, it says 14 mph.
Art (taking command): OK, relax, it'll be OK, Nicko. We can't fool around here any more, this is getting serious. We can't break a pole or the REI guy will shame us when we try to return it. Let's take the tent down.
Nick (relieved): We can go sleep in the house. Good thing I left the porch light on.

REI salesman: "Well, you really should take your tent down any time the wind is over 10 mph"
Last edited: