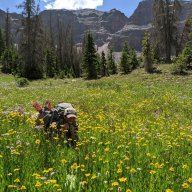 Joined

Feb 12, 2014
Messages

751
I bought myself one of those bug zapper rackets, here's what one looks like:
http://www.walmart.com/ip/BiteShield-Electronic-Racket-Zapper/11988154
Now that it's warming up and the bugs are creeping out, I've taken a liking to this toy. Since I'm hunting bugs, there seem to be a lot less around my house. I'm thinking of taking this on my next backpacking trip in hopes Murphy's Law holds true and I won't run into a bunch of mosquitoes. But if I do...look out!
And if you happen to see a guy running through the woods waving a racket wildly at thin air, it's OK I'm just partially nuts. And yes, it's very fun!