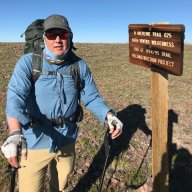 The mountains are calling and I must go
.
Joined

Mar 31, 2013
Messages

1,018
Looking good!

Is that a flat brimmed hat I see you sporting?
Indeed!
The woman that I am related to by marriage and 16 year old daughter told me I couldn't bend the brim.
I'll just gas light them and they'll never know until it's too late.