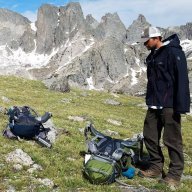 Joined

Sep 7, 2016
Messages

34
I hike the same trail every single day (when I'm in town). It's a pretty rigorous climb but I do it to stay in shape...it's a MAJOR calorie burn. I've taken a picture from the same spot at the top of the same mountain (Mt. Ogden from the north) every day that I've gone and I've accumulated a pretty good and neat collection.
It's really fun to see the difference in seasons, different cloud formations, difference in vegetation colors, difference in lighting (time of day (and a few at night under full moons)).
During the winter when the snow coverage is adequate, I skin up and and have found a few terrific runs to ski down - just a few spots with some tree dodging.
I plan to make a time-lapse video soon with all of the pictures when I get some spare time.
Here's a link to the collection:
https://goo.gl/photos/oMURfV8xcVe522ZVA
and here's one of the pictures. This picture does not do this particular day justice. The light was beaming through the clouds on this day and just hitting Mt. Ogden. It was pretty surreal.