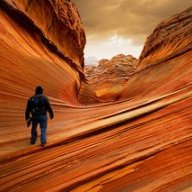 Broadcaster, formerly "ashergrey"
.
Joined

May 5, 2012
Messages

1,724
Get ready to pack out your potty in Chesler Park and Elephant Canyon. Info from the NPS:

The National Park Service (NPS) has announced that overnight backcountry permit holders for Chesler Park and Elephant Canyon backpacking campsites and the Peekaboo vehicle campsite in the Needles District of Canyonlands National Park, will be required to pack out their human waste beginning September 22, 2013.
Use of a toilet system that is either: 1) washable and reusable, allowing for the sanitary transfer of waste to sewage treatment facilities, or 2) of the type that treats solid waste with dry chemicals and is EPA approved for disposal in landfills (a.k.a. "wag bags") will be required.
Disposing of untreated human waste in landfills is prohibited by the Environmental Protection Agency (EPA). Landfill safe waste bags must be disposed of in a designated human waste receptacle, and portable toilet system contents must be emptied into a designated sewage treatment/dump station facility. Dumping portable toilet system contents and/or putting wag bags into vault or flush toilets are prohibited. Human waste in the backcountry is becoming a greater resource protection and human health concern as park visitation increases. Park officials encourage all visitors coming to enjoy the region's backcountry trails and roads to plan ahead for ensuring they can properly contain and dispose of their human waste.