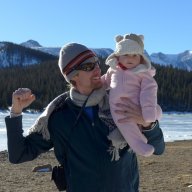 Joined

Mar 18, 2014
Messages

103
So I recently left my old 3ccd hd camcorder outside one evening when it rained (a lot). And I immediately turned it on when I found it, thus shortcircuiting something in the circuit board and now it works, but only in photo mode. So my video capability is kaput. My DSLR doesn't do great video but is fine for photos. But I feel like I need another camcorder that is going to last me throughout the next wave of technology and keep my videos happy. My point and shoot camera also broke a year or so ago. I had a Panasonic LX-7 which took great video and photos. So I was using a combination of my DSLR (older Canon T3) and this camcorder for awhile. But carrying all of that hiking can get heavy.

Just a little background - I do make videos of almost all of my hikes and stuff that happens with my kids. So I am into preserving these memories at the best quality that I can, but I don't buy all the latest TVs and whatnot for my home to play them on. A simple HD LCD Tv is all we have (no 4K, etc.)

I've never considered a GoPro, but with my kids getting to be older and into more sports I was thinking that one may be fun to tinker with and get some different shots instead of my old standard pan and zoom techniques that get tiring. I just don't know what i'll do for landscape shots, since I don't think GoPro is knows for its zoom ( I could be wrong ).

So should I go with a newer camcorder or try out a GoPro or just get a small point and shoot camera with good video capability and knock out both needs in one go? I'm not really looking to spend much more than $500 on new video equipment right now.