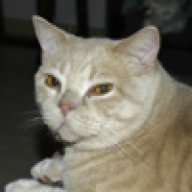 Joined

May 29, 2013
Messages

136
An easy trip to a curious place.
Travel on UT 128 and drive over the Colorado River using the new Dewey Bridge. From Dewey - formerly called Kingsferry - not that much remained. There is an old Texaco Gas Station - no gas anymore. In 2009 the wooden building had a mural on its front wall depicting the Colorado River and Old Dewey Bridge - the landmark destroyed by fire!
Old Dewey Gas Station and Roberts Mesa in the background
In 2013 we found the building "refurbished" with some white paint - no more mural!
But the real place we were interested in is1 mile away from the northern end of the new bridge. There - at 12S 0648745, 4297775 is a shallow alcove the cliff on the northern side of the highway. We parked the car there and walked for a short distance.
Alcove and swallows
A mysterious hole
To our left the was something like an ascending driveway up a hill.
The "Driveway"
We entered a terrace with a view over the Canyon bottom with - again - Roberts Mesa in the background.
Colorado River Valley
The interesting "thing" is behind us - a Cave Home. Not from the ancients but from modern man.
The Cave Home
Inside the Living Room
The stairway is awesome. Imagine singing showgirls stepping down.....Las Vegas in Cave Land.
Fireplace
Electric power was present
Kitchen or bath appliances?
Securing the ceiling by rods
On the upper floor
Looking down the stairway
Seeing that large slab fallen from the ceiling gives an idea, why the home was abandoned. Even entering now is always at your own risk.
A new excavation was started nearby.
Was this intended as an extension or was this an attempt of an new start for a second home after the slab crashed down?
Looking down the driveway into the shallow alcove - US 128 nearby.
The adit again
The upper holes hold remains of water pipes. Possible that this arrangement was used to collect water?
Last edited: