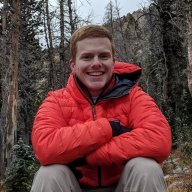 Joined

May 31, 2015
Messages

3,064
September 14-15, 2019
Seeing everyone's photos and trip reports trickling in from the past summer spurred me to write this one up. I love winter, but I also love summers in the mountains.
This was a somewhat spur-of-the-moment trip. It was after Labor Day, and I was wanting to see somewhere that would have been too busy during peak season, which was now over. Naturalist Basin ended up being my choice.
Got to the trailhead and got started. The weather was perfect all day. Not a cloud in the sky for the most part. Early into the walk, I passed Scudder Lake. The whole area had burned the previous summer. It was interesting to walk through all the snags and see what survived and what didn't.
Even the walkways had burned and begun to fall apart.
I got closer to the basin and it started to get more meadowy.
I reached Jordan Lake and ran into the second group of hikers of the day. They were looking around in tall grass for some lost glasses, and they asked me to keep my eyes peeled for them as I headed up the trail.
It was quite a steep climb from there up to the bench above. The views were good though.
It also got more alpine tundra-y.
Nice views of Shaler Lake.
I found a stupid mylar balloon in the bushes up high. Maybe someone accidentally let it go, but maybe not. That people intentionally let go of balloons so often really gets on my nerves, and this is a prime example of why it sucks so much.
So I cut it off of the bush and packed it out. It was a really big one. Looked like it had been up there a while since it was so faded.
I moved on, occasionally having to thrash my way through thickets of willow and pine bushes.
LeConte Lake was nice.
The water was nice and clear, and the separation in colors as it got deeper was interesting.
Blue Lake was also nice. For some reason, I didn't realize it was Blue Lake until I had mostly finished walking by it.
I got to the steep descent down to Morat Lakes, and I was glad I didn't have to go up what I was coming down.
I set up camp near the southern shore of the more westerly Morat Lake. I thought I would be alone for the night, but a couple hiked in with their dogs an hour or so later and set up camp on the eastern shore. They were friendly and pretty quiet.
The hike out in the morning was great. Frost had fallen overnight, and it was dead quiet. I got an early start, before the sun had risen.
Completely serene.
I didn't take any more photos after the sun had fully come up. As I trudged through the forest on my hike out, I was accompanied by a solitary bugling elk. He was very close, as I could clearly hear him crashing through the bushes nearby, and his bugling was really loud at certain points. The forest was too thick to see more that 10-20 feet in most directions though. It was an amazing experience. I managed to get one recorded, so I uploaded to Youtube for purposes of this trip report.
I got back to the trailhead nice and quick. Great, short trip. Glad I was finally able to see Naturalist Basin.
Last edited: