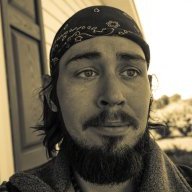 Joined

Dec 5, 2016
Messages

18
I am going to risk overcrowding the forum with a second thread because I'm trying to gather information in rather a hurry. I apologize for monopolizing the forum.

I purchased a SOL Breathable "Escape" Bivy last year prior to my bike trip and found it very adequate. It is a Tyvek bivy with a mylar (or at least mylar-like) inner coating to reflect heat. The problem is that the mylar quickly wore away, and the bivy is no longer able to keep me warm.

I don't know if it wore away because the woven surface of the Tyvek simply didn't allow the mylar to cling, if it was cheap manufacturing, or if all mylar is like this. I've also had mylar blankets that had the mylar wear off, but I just chalked that up to them being $2 blankets.

Is there such a thing as long-lasting mylar? I worry that whatever I buy will erode away as quickly as the SOL, but I need something reflective to increase the heat-retention of my system.

I am going to keep the SOL bivy for the Tyvek, so I think a blanket would work fine (I'll just tuck it between my bag and bivy), but I would prefer a bivy for ease of stowing away. Anyone with a product recommendation or with knowledge about mylar construction and quality would help me greatly.