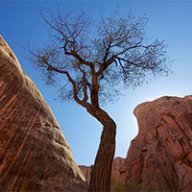 Joined

Aug 9, 2007
Messages

12,918
After reading
HomerJ
's account of his
first backpacking trip
to the Winds, I thought I'd dig out the old box of photos, fire up the scanner, and post my own trip report from my first backpacking trip ever. Be warned... this is not a 'great' trip report. The pictures are old and poor quality, and the description is long. You've been warned!
This trip doesn't start out in the wilderness like you might think though. This journey begins in Mexico. Cancun to be exact, out on the tip of the Yucatan Peninsula on the west side of the Caribbean Sea.
In 2004, I was living and working in Logan, Utah. I was the general manager of the local Golden Corral restaurant. It was a fun, but stressful job. Lots of hours and lots of headaches, but the money was good and as a young, single guy. I found every way I could to burn it as quickly as I got it.
Over the winter of 03/04, my friend Nate and I decided that we should make a trip to Mexico over spring break. We'd seen what it looks like on MTV and we wanted a piece. So we booked a suite in the 'presidential suite' section of a very nice hotel right in the heart of Cancun right over the peak of college spring break. A week of unlimited booze, food and... well... you can imagine. Our room had a 'liquor dispenser', all the rum, vodka, tequila and whiskey you could handle, hanging right on the wall. Not too mention the corona taps located conveniently throughout the hotel. And then there were was all the stuff
outside
the room! We thought we were in paradise.
About 3 days into our week long trip, things started to catch up with us. Nate came down with an awful case of something. Food poisoning perhaps? Either way, it put him down for the rest of the trip. I'd stop by the room and bring him ice cream once he got to being able to eat a little, but otherwise I was pretty much on my own the rest of the time. We had planned to head out to the ruins of Chichenitza and we had even booked a 'booze cruise' type bar tour through town. But I didn't want to head out on my own, so I mostly stuck around the hotel.
By the time our departure day rolled around, we were both aching to get the hell out of there. The delays getting home were torture, as was the experience of sitting next to me on the plane. I'm not sure if it was all the booze, or all the buffet food, or both, but Mexico left me with the most overwhelming BO I could imagine. I couldn't stand to be around myself! GET ME HOME.
Once we were back in Utah, I looked at my bank account. The trip had taken it's toll. Nearly $4k spent just for my share. Ugh. And to make it worse, all I could think is that I needed a vacation from my vacation.
I decided I needed a change. I liked hiking, and I'd recently done a few adventurous hikes that had given me a taste of what it might be like to backpack. Long hikes for back then. One from Tony Grove Lake to Green Canyon. I think it was 12 or 14 miles, but it might as well have been a 60 mile trek to me back then. It was just the taste I needed though. I decided I would start backpacking to fill my vacation time.
So I got the credit card out and got to work... Sierra Trading Post, here I come! With some tips and advice from my friend Taylor, I loaded up with everything I thought I'd need. I got a 90-some-odd liter backpack first. The classic noob mistake of justifying it by saying it would work for everything! I also picked up an original Big Agnes Seedhouse 2, an Air Core pad and a Big Agnes Lost Ranger. Big Agnes was brand new at the time, but I dug the idea of the integrated sleep system.
After getting all geared up, I made plans for my first trip. Taylor was working in southern Utah, so we decided to meet down that way and head east together to a mystical place known as 'The Grand Staircase'. It was late March, and it was still pretty much winter in Cache Valley, but I had dreamt of a warm place. Something amazing. Perhaps a really big staircase? I had no idea what to expect. I hadn't ventured south much, it was a total mystery what I would find.
On the first night of the trip, we met in Beaver and loaded into my Tacoma and headed east towards Panguitch. As we climbed up through the mountain pass, Taylor told me there was a spot he thought we could camp. He had me turn onto a faint dirt road that took us north, winding through a field of gigantic sage brush. The right track in the road was washed out, and deep. I tried my best to keep from slipping in, straddling the left track with the side of my truck scraping loudly through the brush. Soon we came upon a more open area that was a little less white knuckle, so we decided to hop out and look around for a campsite.
Now, I should mention, not only was this my first backpacking trip, this was my first trip with a dog. Just two weeks earlier, I had adopted Nikita. We had already bonded quite well, and I was confident that this trip should be no problem for her.
But as soon as I threw the door open, Nikita was gone. I could hear her for a minute or two, and then nothing. "NIKITAAAA!!!!, NIKITAAAA!!!!" We yelled. And yelled. And yelled. A half hour went by. It was pitch black, not even a sliver of a moon. It started to hit me. Nikita was gone. I took this dog from the shelter and now she's going to die in the wilderness because I'm an idiot. We decided there was nothing we could do. It was getting very cold, so we threw out our sleeping bags right in the wash bottom.
Fortunately, about an hour later, Nikita came running back into camp, panting and excited. It must have been quite the adventure for her. She was still a young dog and had spent nearly all of her 1.5 years in a shelter. Who knows what she was doing out there, but I didn't care. She was back.
That first night was one of the coldest nights I've ever spent outdoors. My 15 degree Lost Ranger sleeping bag on the uninsulated air core pad was woefully inadequate and I spent most of the night shivering uncontrollably. My dreams of a warm desert paradise had prompted me to leave things like a beanie and warm coat behind. Nothing but shorts and t-shirts for this guy!
When the sun came up, I finally got to sleep. We laid there most of the day, soaking it in. We didn't want to go anywhere or do anything. Just soak up that beautiful, warm sun. By the time we packed up and left camp, it was already getting late. We rushed to Escalante, arriving at the 'visitor center' just before they closed at 5pm. At that time, the visitor center in Escalante was no more than a trailer with some stairs built to the door and a few books for sale inside. We spoke to the ranger inside and he told us our best bet was to hike the Escalante River Gorge. We walked outside and he pointed right at it from the trailer. It fit the criteria... a few minutes away and a short hike before we might find a place to throw down camp for the night.
We hit the trail and moved as fast as we could. I found out that Nikita was very afraid of water. Even the 1-2" deep Escalante proved to be quite stressful. But we moved along and were able to make it about 3 miles into the canyon before setting up camp for the night.
Taylor was serving as my backpacking mentor through all of this. He was not very experienced himself, but he'd been a few times and knew a lot more than I did. So I trusted him when he told me he'd handle all the food if I just brought my gear. That first night was a rude awakening. Taylor broke out a Mountain House meal. Mmmm... is that Chili Mac? Sounds great! Oh wait.. you mean there's only one? Well yes, I see it says 'Serves 2', but that doesn't look like much food. Yes. My meals consisted of 1 cup of mountain house. Granted, I could use a diet, and that trip to Mexico didn't help much, but damn was I hungry!
The next day we got up and hung around camp for a while. We set my tent up as a minor shade shelter to sit next to. It probably didn't do much good, but it made us feel productive and made for a good self-portrait.
Eventually we decided to day hike down canyon for a while. We thought it would be nice to make it to a side canyon called Death Hollow, but it looked pretty far away on the map.
This was my first time really hiking a long distance in the desert, and the remnants of flooding shocked me. I remember thinking this tree was one of the coolest things I'd ever seen! How could it get there!! Haha.
And the soaring walls in the upper gorge were just amazing. I'd hiked a lot of the tourist friendly desert stuff, but nothing like this. Never in such wilderness.
Nikita and I developed an incredible bond on this trip. As I said before, I had just adopted her a few weeks earlier. She even started getting over her fear of water a bit after a few miles.
After a long hike, we finally made it to Death Hollow. It was late in the day and all in the shadows, but we decided to hike up it just a bit to see.
I had to leash Nikita up to get through the deeper water. She was not liking this at all.
Nikita and I walking back towards the Escalante.
We raced back up the Escalante to our campsite where I was once again food-deprived for an evening, and then hiked out the next day. It was a fantastic experience. A lot of lessons learned and a lot of unforgettable memories made. And lots and lots of backpacking to come.
> All photos courtesy of Taylor D. aka
Smokey