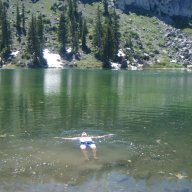 Joined

Apr 27, 2016
Messages

483
With it being graduation season and mine and my wife's siblings thinking it is good to bread like rabbits we tend to spend this time of the year traveling all over for family gatherings. We arrived home from one such event and with a few days until the next one we decided to give this trail a shot. I recently downloaded the TrailRun Project app and I saw this trail on there and thought it looked fun.
Since I don't ski this is actually the first time I have been over to this area. We often go to the other side over by Liberty and go snowshoeing in the nordic park area but it was nice to visit this area.
We drove up the Old Snowbasin road passing cyclists who were slowly climbing up the grade. It made my legs and lungs burn just thinking of riding my road bike up that grade. When we dropped over the top a gate blocked off the road and there was a large parking area with vault toilets off to the right. Considering it was a holiday there was still plenty of parking. The trail we decided to tackle starts about 50 feet past the gate on the left hand side of the road. The trail is used by hikers, runners, and mountain bikers. In the winter there is also snowshoeing. The trail starts off with a gradual ascent and we quickly discovered that with the recent rains and runoff parts of the trail were very muddy. The trail is fairly shady the entire way with only some sections of exposure to the sun. You climb for about 2.8 miles crossing well constructed bridges and the occasional bench if you need a break. At 2.8 miles you can go to the Green Pond Trail to the left or continue east to the middle fork of Wheeler Creek. We stayed right. At this location there are also some great views of Snowbasin.
At this point the trail starts to head down and gradual pitch. Eventually you come to the Old Snowbasin road and you cross it and head directly to the trail on the other side. You stay on this trail until you come to another Y at which point you again take a right to head back towards the trailhead. There is one more climb along the way, and even though it isn't steep or long after running about 5 miles it can wear on the legs a bit.
This was a fun trail that I hope to come back and do again, possibly with the mountain bikes. My wife was giving me a hard time saying I was making her get her birthday shoes dirty. I just told her that now she won't look like one of those people that buy the expensive gear only to walk around the mall.
With that we headed home and used some of our lovely garden mint to make mojitos.
Detail:
Distance - 6.04 miles
Time - 1 hour 16 minutes
Elev. Gain - 961 ft
Max Elev. - 6,154 ft
Gear:
Solomon Speedcross 3 shoes
Osprey Rev 1.5 pack
Garmin Fenix 2 watch
Here is a link to the map
https://drive.google.com/open?id=1eD-Ri8jO1vF7QT7meAYDZhzqErk&usp=sharing
And a couple pictures.