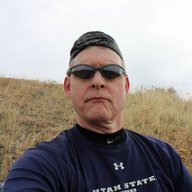 Joined

Dec 23, 2013
Messages

3,158
My first hike of 2016 takes me back up Mount Wire today. It is only 2.3 miles to the top but it took me about fifteen minutes longer in the snow than it does to hike up on a dry trail. The highlights of the hike were: one hawk on my way up, approximately thirty deer along the way and the Mountain Mahogany with snow on them.
Mountain top in a cloud
Just beyond the intersection with the Shoreline Trail
The trail
More trail
Looking back down the drainage towards the Salt Lake Valley
A deer laying down in the center of the photo. I saw about twenty deer along the south facing slope of Red Butte Ridge
Looking up towards the false summit
Looking down into Red Butte Canyon
Small patch of light lightens the Black Mountain Ridge towards Lookout Peak
Gorgeous snow covered Mountain Mahogany
More Mountain Mahogany
Barely make out the old beacon in the cloud
Getting close to the top
Made it! The old airplane beacon on top of Mount Wire
View of Parley's Ridge. Grandeur Peak on the Millcreek Ridge can be seen through the clouds in the upper right. You couldn't see down into the Salt lake Valley from the top due to cloud cover.
More Mountain Mahogany on the way down
The sun peeked out just a bit for this Mountain Mahogany shot.
Shot of the ridge to the south of Red Butte Canyon on my way down, getting close to the end.
Last edited: