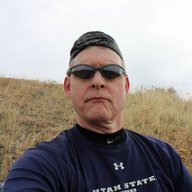 Joined

Dec 23, 2013
Messages

2,046
Scatman, enjoyed your trip report. Thanks. Now do heartily know what you are saying in not being a desert rat. I thoroughly enjoy Southern Utah's canyon Country, but further south in the real deserts somehow do get to me it seems anymore. I am now here in St. George. Found a spot to winter. But the deserts so get to me now after being in the lush Wyoming Wilds like the Thorofare and the very very lush Pacific Northwest. Am sooooo enjoying the sun and warmth with no snow and cold, but do miss the land up north. And when spring comes, am really looking forward to heading back north.

Again Thanks for your wonderful trip report with all of the photos.
Thanks
@Kmatjhwy
. I'm glad your settled in and back on the forum. I'm heading out again today for another hike here in the foothills. They say that there is a 20% chance of rain, so keep your fingers crossed that that 20% misses me.