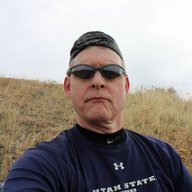 Joined

Dec 23, 2013
Messages

2,710
Another nice, easy, early season hike is Mount Van Cott which is located just north of Mount Wire across Red Butte Canyon. The peak is only 6348 feet high and it takes less than an hour to hike to the top.
I started out at 10:30 am just south of the Huntsman Cancer Center and hiked up to the Shoreline Trail. Once on the trail, I headed north and just before Dry Creek picked up an old Jeep road that turned back to the south before rounding the ridge, and then made its way east as it climbed to the ridge. Once on the ridge, the old track took me all the way to the top. It took me about 58 minutes to get there but I was taking pictures along the way. It can easily be done in 45 - 55 minutes depending on how determined you are.
At the top, I had the whole mountain to myself as a sat down to eat a Cliff Bar while looking out over Red Butte Canyon. It's funny, I like peanut butter but I don't particularly like things made out of peanut butter. Go figure. The Cliff bar that I ate was the crunchy peanut butter, which is my least favorite Cliff Bar. I had one left and decided to finally get rid of it on this hike. It took a lot, along with plenty of water to get it down. After eating, the clouds started blocking the sun while the wind picked up a touch and I got a bit of a chill so I started back down. My route back brought me down
Battle Gulch
and from there back to my Jeep.
Looking up towards the top of Mount Van Cott from the Shoreline Trail
The Shoreline Trail
Old Jeep track heading up the to the top of the ridge
Looking towards the summit
Dry Creek Canyon - Avenues Twin Peaks, top just left of center
Approaching the only steep section of the trail
A stand of scrub oak
Black Mountain Ridge
Mount Wire to the south
Time for that damn Cliff Bar!
Red Butte Canyon
A tent I saw on the way down.

Featured image for home page: