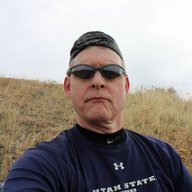 Joined

Dec 23, 2013
Messages

3,426
So
@TractorDoc
has been training for an August trip down into the Thorofare, and he has been posting some of his training hikes here, and basically putting the old Scatman to shame. He's been loading his pack with 50 lbs., heading off with the wife, and finishing up with some fancy ice cream. Oh and least I forget, he's had snapping turtles and vintage diesel locomotives in his reports. How am I supposed to keep up with that? I mean having a snapper in your report is like having a wolverine or a cougar in my book. And he also takes some damn fine pictures too.
@Rockskipper
, please let the Doc know that the Thorofare is relatively flat.
So in a effort to keep up with him, old Scat is going to have to bring out the heavy guns and hike some of the bigger daddies in the Wasatch I guess.
I was scheduled to give blood again on June the 10th, but since I was heading to the Wyoming Range with
@Bob
on the 26th and didn't want to die, I delayed giving until Saturday, July 1st. So heading into this hike I was a pint low so to speak, and I could tell right off the bat that this was going to be a struggle. I persevered though, and while I didn't set any records doing so, I made it to the summit to enjoy a lot of butterflies and ladybugs.
2023 has been an incredible year for wildflowers, and this hike was no exception. From start to finish it was wildflower paradise.
Katie and I took the Bowman Fork Route on this one, which means a long approach to Raymond. Roundtrip distance was about 10.5 miles,and it took us a good nine hours to complete. This included a long lunch up top to enjoy the wonderful 360 views.
Gearing up at the Sube at 6:41 AM
Early morning light on Grandeur, viewed from the Millcreek Road
Thimbleberry
White geranium
Common ninebark
Columbine
Send the cavalry
@Rockskipper
. I'm really to old for this anymore.

Lupine
Wild roses
Pink geraniums
Common yarrow
Caterpillar
Paintbrush
Skyrocket
More geraniums
American vetch
Clematis
Groundsel
Bluebells
Fungi of some sort
Pretty walk through the aspen
Mount Raymond
Ladybug
More aspen
View back at Grandeur Peak, with Frary Peak in the far, hazy distance
Larkspur
Western wallflower
Baker Spring, which I would take advantage of on our way back down as it was a hot day
Mount Raymond - working our way up to Baker Pass
Mount Raymond
Ground squirrel
Paintbrush
A look down Porter's Fork
A little bit of snow here and there to deal with
Clematis
View of Raymond from Baker Pass
A group of ultra marathoners who were discussing the Crazy Mountain 100 in Montana, all while I was thinking to myself the Crazy
Raymond 10.5
The guy pictured without a shirt said he is planning on beating the course record.
Skyrocket that has bleached to white
Wildflowers on the saddle
Wasatch beardtongue
Katie, making her way up Raymond with Gobblers Knob above and to the east
Monument plant
Could use that extra pint of blood about now.
The scramble section begins
So let's scramble
Katie's turn
I ran into a rattlesnake just about here once
Slow going for me
The summit comes back into view
A painted lady, just below the summit
Nuttall's linanthus
Views from the summit:
Wildcat ridge - looking west
Knife's edge the protrude south from the summit
View to the south (L-R) Dromedary, Sunrise and Broads Fork Twin Peaks on the Cottonwood Ridge
View slightly to the northeast with Mount Aire on the Millcreek Ridge
Benchmark on Raymond
View to the east and Gobbler's Knob
Ladybug. There were a lot of these on the summit
View towards Mount Superior on the Cottonwood Ridge
Summit shot
Figuring out the way back down
Easier going up I think.
View towards the top of Big Cottonwood Canyon
Back through the aspen
Back at the official trailhead which is located in the Terraces Picnic Area
Back at the Subaru
After our hike, we headed down to Liberty Park in Salt Lake for the Food Truck Faceoff for dinner. There were maybe 20 -25 food trucks participating in the faceoff with monies going to charity.
I got the pulled pork nachos from Salt City Barbeque
Katie got a Navaho taco
Delicious!
Then it was time for a milkshake from Iceberg
An Oreo shake to be exact
Listened to some bands for a couple of hours while we enjoyed our food.
And then today, it was time to finish staining my upper deck.
The End.