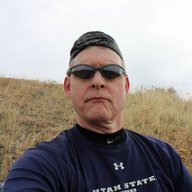 Joined

Dec 23, 2013
Messages

2,628
My kids and I managed a hike up Mount Aire today. Since the gate to the upper portion of Millcreek Canyon is still closed, we decided to start at the Bowman Fork Trail Head and hike along the Pipeline Trail to the Mount Aire Trail Head.
When we arrived at the trail head it was drizzling a touch but after thirty minutes on the trail it had stopped and the sun popped out intermittently. The hiking was pretty easy along the Pipeline Trail though it did get muddier as we approached the Mount Aire Trail Head.
We took a quick break at the Mount Aire Trail Head before continuing on. It took us a little over and hour and a half to make it to the summit of Mount Aire. Once on top, we stopped and ate lunch before heading back down. We had originally planned to gain the Millcreek Ridge and follow it to the Bowman Fork Trail and then descending back to our vehicle, but my daughter was out of gas so we returned the same way we hiked up.
Round trip distance was approximately 10.2 miles and it took us six hours and ten minutes to complete, including lunch and a couple of breaks along the way. My lens hood wasn't screwed on all the way, which I didn't notice until I got home, so my images have some of the hood showing in opposite corners.
Pipeline Trail Sign
Kids on the Pipeline Trail
View from the Pipeline Trail
Mount Raymond
Elbow Fork - location of Mount Aire Trail Head
Scatman at the trail head to Mount Aire
Hiking through aspen
Looking up at the top of Mount Aire from the saddle
Horned toad next to the trail
-
I-80 heading east
Grandeur Peak to the west along the Millcreek Ridge
Millcreek Ridge with Murdock and Milvue Peaks to the east - viewed from the top of Mount Aire
Wildcat Ridge - viewed from the top of Mount Aire
The three stooges on top
Nice view on the way down.

Featured image for home page: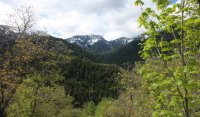 Last edited: