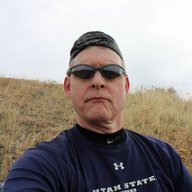 Joined

Dec 23, 2013
Messages

3,425
Today's hike found myself and Katie in Millcreek Canyon to meet up with
@Ugly
for a go at Mount Aire. We met early in the morning at 6:30 am at the Maple Grove Picnic Area, and with the upper Millcreek Canyon being closed until July the 1st, we walked up the road for approximately 1.3 miles until we reached the official trailhead at Elbow Fork. From Elbow Fork, it is only a couple of miles to the summit of Aire, and we made some decent time to the summit considering us stopping to take pictures along the way. Once at the summit, Ugly morphed into a trail runner due to some family commitments, and he headed back to his vehicle. Katie and I stayed up top to take some pictures and eat a snack before heading back down. While on top, the wind really picked up and we found it to be quite chilly for this time of year.
Nothing will get you up a hill more than buckwheat pancakes! Look at that batter. I could almost dive right in and take a swim.
The final product for the hike up Mount Aire.
Millcreek
Arriving at Elbow Fork
Strawberries blooming
Tree down
Glad to have company
Ugly, getting a great shot towards Gobblers Knob and Mount Raymond. The ridge above
him is where I plan to stash a gallon of water for my Millcreek Ridge hike on July the 2nd.
Geraniums were plentiful along the trail
Gobblers Knob and Mount Raymond
Penstemon
Summit shot
Scat blood!
Wide angle view of Wildcat Ridge
View of the western portion of the Millcreek Ridge from Mount Aire to Grandeur Peak
Mount Raymond with Broads Fork Twin Peaks of the Cottonwood Ridge making an appearance
Mount Aire Trail with Mount Olympus in the distance
Another geranium
Cinquefoil
Looking back up at Mount Aire after descending to the saddle
Aspen below the saddle
Mountain Ash
This was interesting. Is it a fungus? Eggs? Parasite of some sort?
More of the same
Hookedspur Violet
Yellows Salsify
Back on the Great Western at the junction with the Lamb's Canyon Trail
Beetle on a geranium
A fitting end back at Millcreek
The End.