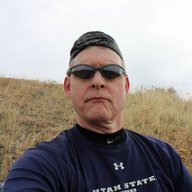 Joined

Dec 23, 2013
Messages

3,425
After hiking Mount Olympus the Saturday before last, we returned to the Millcreek Ridge again, this time hiking a lollipop loop, beginning at the Maple Grove Picnic Area in Millcreek Canyon, hiking first up to Mount Aire, then following the ridgeline east to unnamed peaks 8490 and 8319, then bushwhacking our way back to the Lamb's Canyon Trail, and then back to the Mount Aire Trail to complete the loop, and finally back to our car which completed the lollipop portion.
Upper Millcreek Canyon is closed (gated) to vehicle traffic (unless you own a cabin there) until July 1st, so that means if you want to summit Mount Aire or use any of the trails above the gate, one must park at the Maple Grove Picnic Area and walk approximately 1.5 miles up the road to reach the official trailhead at Elbow Fork.
Wildflowers and blooming shrubs were out in force again this week along our entire route. The pictures that I took in the early morning light didn't turn out very well, so it you shake your head a bit, or blink repeatedly, they just might be in focus for you.
Sorry about that.
The hike we did is just a smidgeon over 8.5 miles, but unlike our last ridge hike from Grandeur to Church Fork, this one had a lot more bushwhacking through scrub oak and snowbrush ceanothus to contend with. Even though this hike was 2 miles shorter than the one two weeks ago, if took us almost the same amount of time to complete.
Here's some shots of our hike.
Route overview map
Where we parked
Red Osier Dogwood
Thimbleberry
Millcreek
Arrived at the official trailhead
Wild Strawberries - remember to shake your heads and blink your eyes
Hookedspur Violets - Shake and blink!
Heartleaf Arnica - still shaking and blinking?
Watching for the ever elusive bull moose, on the Mount Aire Trail
Norther Black Currant
Bluebells - Whole lot of shaking going on! -
Come over baby whole lot of shakin' goin' on
Yes, I said come over baby baby you can't go wrong
We ain't fakin'
Whole lot of shakin' goin' on
Twinberry Honeysuckle
Chokecherry
A group of Solomon's Seal
Bonneville Pea
Mount Aire Trail
Common Snowberry
Looking up at Mount Aire from the pass
Millcreek Ridge towards Upper Burch Hollow
View of Gobblers knob and Mount Raymond from the pass
Lupine beginning to bloom
Sticky Geranium
Wasatch Beardtongue
Some Arrowleaf Balsamroot still doing well at 8200 feet
Scarlet Gilia (Skyrocket)
More beardtoungue
Sheila, making her way up from the pass
Western end of the Millcreek Ridge with Grandeur Peak the west bookend
Sheila,, on the summit of Mount Aire with Broads Fork Twin Peaks along the Cottonwood Ridge in the far distance
Deer leg on summit of Mount Aire
Daisy
A look to the east along the Millcreek Ridgeline and unnamed peak 8490
Caterpillar nest
Utah Serviceberry on the ridgeline
Lots of scrub oak to contend with on this section of the ridge
Small bump along the ridge
Looking south, down Elbow Fork from the ridgeline
Are we making any headway? Unnamed Peak 8490, with Millvue Peak in the distance
Hawksbeard
Almost to the final push to Peak 8490
Scatman down!
@Rockskipper
, I need some advice on how to keep on my feet. Don't hold back now, give it to me straight.
Nothing like scrub oak up your kilt to make your day.
Sheila, working her way across the ridge, with Mount Aire behind her
Alexander Basin across the way
Looking down on Peak 8319
Swallowtail
Horned Lizard once again
The only paintbrush that we saw on our entire hike
Creature from the Black Lagoon. A second horned lizard that we ran into along the ridge.
On Peak 8319
Bushwhacking heaven as we were coming off Peak 8319
Pass full of Mule Ears
A look back up and to the west of Peak 8490 and Mount Aire beyond
Millvue Peak ahead
Nearing the end of the bushwhacking on our way to the Lamb's Canyon Trail
Black Bear scat
Lots of aspen groves in this area
Stickseed, back on the Lamb's Canyon Trail
Mountain Ash
Snowbrush Ceanothus - nice to walk by instead of going trough as we did on the ridgeline
Cinquefoil
Western Valerian?
Purple Clematis
More clematis
Western Wallflower
The Lamb's Canyon Trail and a portion of the Mount Aire Trail are part of the Great Western Trail
Back to Millcreek
On the road again
Just can't wait to get on the road again
The life I love is hiking with my friends
And I can't wait to get on the road again
On the road again
Goin' places that I've never been
Seein' things that I may never see again
And I can't wait to get on the road again
End of the Lollipop Loop. The gated road up Millcreek Canyon - I forgot to take a picture of this earlier in the day.
The End.
Last edited: