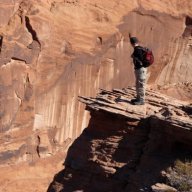 Joined

Jun 16, 2012
Messages

1,485
Nick's post mentioning mosquitoes in the Winds got me to thinking about those terrible pests.
Does anyone else carry a
Thermacell
?
I know it's additional weight, but, man, I swear by that thing. It really repels the skeeters immediately around you, which makes for pleasant dinners, stargazing, reading time, or just sitting around.
The only problem I've had is with it staying lit over 11,000 feet. I've only had that problem once, though, in the
Flat Tops
.
Also, Nick, you said you don't mess with the small 100% Deet bottles when the mosquitoes are bad. Is that just because of the small bottle, or do you not like the 100% Deet? My experience has been that the higher the Deet, the less spray I need. I usually get eaten alive when I use anything less than 100% Deet, but maybe I'm doing something wrong.
Anyway, just wanted to see if anyone else has other good mosquito solutions.