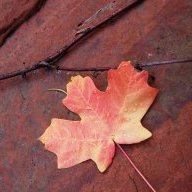 Life really is better Here
.
Joined

Apr 20, 2013
Messages

707
I do not post as often as I could, but I spend enough lunches reading the great reports, that it is time I do.
Early Saturday morning on Labor Day weekend with my nine year old son grinning and a little too excited, we pulled in and squeezed into the last possible spot in the main Highline parking lot. The sun was only just striking a few of the upmost peaks, and clouds were clearing.
It was nice and chilly, and we downed a few kiwis and an orange crush for breakfast, which recalled a song from my teen years that played in my head over and over until we were a few miles into the trail when I was able to replace it.
This one took some extra processing... but was our breakfast view.
Late summer was giving way to autumn all over. Both the temperature and the colors.
What I call a moment of Zen...
My son complained a bit after we hit the final meadow below the climb up to Morat Lakes. I tried first to empathize with him, as he had done a fair clip of mileage without taking more than a couple short breaks for hi-chews and some water. He was certain we should camp right there... He is stubborn like his mother, but I pointed out the first of many bands of rain that were inbound, mentioned that above us were a couple of lakes, and I started up the climb.
He followed along grumpily.
We had the tent up only a few minutes before getting dumped on, but like all good Uinta storms it blustered a bit, but quickly moved on.
The waves of little storms and squalls went all day Saturday and Sunday, leading to a decision to stay both nights at the same place, leaving time for a few exploring trips, and for my son to practice casting (it is only fishing if you catch something... right?)
We wandered the lake, having it all to ourselves for most of the day, and only sharing it overnight for both nights with one other couple. He climbed rocks, while I enjoyed the silence and sun that would give way to chilly shade... and I have to admit it was a pretty lazy weekend as every band of rain gave me a reason to catch a nap.
Not sure what he is contemplating here... (hopefully that he is glad his dad pushed him the last few hundred yards up to some real lakes)
The weekend was beautiful. No itinerary. We followed bobcat tracks, wandered, jumped on the rocks, and dodged hailstones. A couple of times the thunder brought some rocks down, and watching them go was one of the highlights for my son.
Changing seasons and changing light.

Since we spent so much time in the same place the variety was with the changing weather.
The day petered out with light rain... the middle of the night we had stars... but by dawn it was blue and overcast again.
I love low clouds.
An early rainstorm led to enough of a break that we packed up lunch and climbed to Blue Lake and actually into Naturalist Basin. We wandered with only seeing a few different groups. As we finished lunch of tuna and crackers the clouds threatened again and we were back at camp when the worst of the rain and hail hit. There was even some sleet that evening as we got ready for dinner.
Some shots from the few hours wandering through a small part of Naturalist Basin.
We went a little further than this before heading back to Blue Lake for lunch.

Fall colors... clouds... =slow hiking with my heart a flight and jaw open. More than a few times I had to just stop and watch light overtake shadows on the open tundra and sweep past.

Lunch view.
This storm coming over Agassiz was the worst one of the trip.
The night again slipped in with overcast skies and some rain. Around 3am it was clear and cold, but the stars were out, so I convinced my son to slip outside for a look. It was great. Short lived, but five or ten minutes of the stars reflecting in the lake and surrounding on almost every side was worth it.
The last morning dawned with a little color and frost.
and blue skies followed...
Some of the details.

A final look before we eventually left to hike back out to reality.