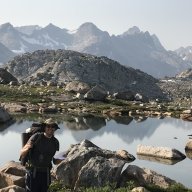 Joined

Mar 1, 2015
Messages

529
I am planning a 2-day trip and would like to hike Moonshine Wash one of the days (I just did Little Wild Horse Canyon last week---2nd slot ever!---and it got me hooked). Anyway, I saw a trip report for Colonnade Arch nearby, which looks like a potential 2nd hike to do on the trip. I have a few questions about these two hikes:

1. I can bring either my Subaru Outback or my minivan. Normally I prefer the minivan on trips because I like to sleep in the back. Can I make it to Moonshine Wash in the minivan? How close can I get to Colonnade Arch in the minivan? How close can I make it in the Outback?

2. Assuming I can't get very close to Colonnade Arch in my vehicle, is it bike-able with a mountain bike? I wouldn't want to do this over a long distance, but I wouldn't mind biking a handful of miles if it's not too rough.

3. Does Moonshine Wash hold much water? Does anyone know if it currently has much water? How/where do you find info on this? When I hiked Little Wildhorse last week, it had water past my waist for a stretch (and I'm 6'3''). I didn't mind this much, but if I should expect similar or more water in Moonshine Wash, I may push to do this trip earlier or not at all (because I'm worried November might be too cold for the wading).

4. I was hoping to do this trip the 2nd week of November. I might be able to push it a couple of weeks earlier if the weather is significantly better If you think it's worth pushing the date up (because the canyon is freezing in Nov. or has ice-cold water, etc.), please let me know.

5. Do I need any special footwear or gear for this hike? I was hoping to just hike it in some old tennis shoes or trail runners (my understanding is that it is a beginner-friendly hike with a few easy short scrambles). Do I need neoprene socks or a wetsuit?

Thanks! If anyone has any other tips for these hikes or suggestions for better hikes in the area (for example, I may do Horseshoe Canyon instead of Colonnade Arch), please let me know!