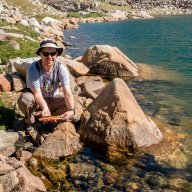 Joined

Jan 19, 2012
Messages

1,199
The other day I scored me a Mont Bell U.L. Super Spiral 800 Down Sleeping Bag for $250 + tax (regularly $419) at
Campsaver.com
. They have an additional 20% off clearance items with the code:
OUT-4339
! Today I got my bag and it is awesome! :twothumbs: Unfortunately I think I grabbed the last one as my buddy tried to order it right after me and it was out of stock. Anyway, you might check out what else they have on clearance!
I have had my eye on this bag for at least 1.5 years (along with a couple others) and when I saw it on sale I snagged it! This bag is almost 1 lb lighter than my old bag!
The first thing I did was pull it out and climb into it and zip it up. The U.L. Super Spiral is stitched in a way to allow the bag to stretch with you. So the first thing I did was see if I could raise me leg up to my chest and I could!! I hated that I couldn't do this in my old bag. When I first go to bed the sleeping bag is cold and I like to leave my socks on, bu then it warms up and after about 1/2 hour I'm hot and need to take the socks off. The only way to do this was to unzip the bag, letting in cold air, enough that I could get my foot up high enough to reach my sock. NO MORE!!!
Here are some photos of it.
In its storage bag (photos taken with my phone)
All laid out
The inside
In its stuff sack
Of course I haven't had a chance to sleep in it yet, so I can't rate that aspect of it yet. Two minor annoyances about the bag I have noticed.
The zipper doesn't unzip all the down to the bottom like I thought it did. It does get to within about 6 inches and can be unzipped from either end of the zipper.
It has built up static electricity. I need to figure out how to discharge this...