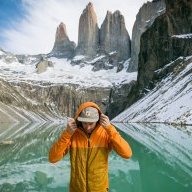 Joined

Jan 21, 2012
Messages

19
Hey all, I'm looking for some "models" who'd be willing to rough it for a three-day weekend in Monument Valley. I'm helping out a new acquaintance in order to get his tour company up and running on the reservation and am planning to shoot staged photos of a tour visiting different landmarks.

If possible, we would drive down on a Friday morning and spend two nights in a Navajo hogan or in tents and do a good deal of 4x4 driving and hiking around that surreal landscape. We would have to provide our own transportation to Monument Valley, food, camp gear and drinking water — and it would be unpaid — but we would have free behind-the-scenes access to the reservation with a guide, which is awesome.

Right now, the weekends of May 21, June 4, and June 11 would be our options, and it would have to include a Friday or Monday because of the long drive. The later we leave it, the hotter it will get. Trying to find 4-5 participants and they have to be really, really good looking, J/K. Please let me know if you're interested. Would be a rare, free behind-the-scenes look at this iconic Utah landscape and historic culture.

If we're friends on Facebook, message me there. Otherwise I'll keep checking this thread.

Thanks!