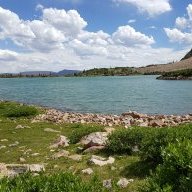 Joined

Aug 8, 2016
Messages

2,070
I've been making totally amateurish videos using both a Samsung Galaxy S6 and and iPhone 6s. They both produce pretty good video but are extremely difficult to hold steady in your hand, especially when walking. You can even see pulsations from my heart beat
. So, I've been looking into stabilization gimbals and other devices designed to minimize the "shakes" and "bumps".
The three-axis gimbals out there are pretty impressive but also pretty expensive. They also are pretty heavy and of course require batteries or USB recharging. I've also been looking at the SteadiCam Smoothee and the Roxtant Pro stabilizers. These guys are much less expensive but are also still pretty heavy (2-3 lbs). I'm sure that weight is going to be a necessity of stabilization but obviously I don't want to go overboard in that department.
Do any of you have and use stabilization gear when you back pack? If so, what do you like and dislike?
Last edited: