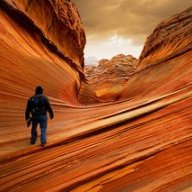 Broadcaster, formerly "ashergrey"
.
Joined

May 5, 2012
Messages

1,724
Heads up if you're headed into the Wind Rivers (info from Sublette County Sheriff's Office):

(Pinedale, Wyo –July 29th, 2018) Active search and rescue mission underway for missing 13 year old boy out of Draper Utah.

At approximately 2pm yesterday July 28th 2018, the Sublette County Sheriff's Office received a call of a missing hiker near Mary's Lake in the Wind River Range. Mary's lake is about 7 miles in from the Elkhart trail head which is 10 miles northeast of Pinedale. 13 year old Garrett Hunter of Draper Utah was one of a 20 member Scout hiking group on a 50 mile planned trip in the area. Garrett is 5'9, 130 pounds has light brown hair and was last seen wearing a blue shirt and grey pants. (See photo attached). Garrett has Asperger's and may not approach anyone for help due to his condition.

Garrett was separated from his group around 0930 am after the group left the 1000 island lakes area yesterday morning July 28th. The group was ending their 50 mile journey and headed back to the Elkhart trail head via the Pole creek trail. It is unknown when exactly Garrett became separated from the group.
Immediately after the initial call yesterday afternoon, a team consisting of six members of TipTop Search and rescue members along with the Sublette County contracted Helicopter went to the area as part of the initial search. As of dusk last night the search efforts were unsuccessful.
Sunday morning July 29th 2018 search efforts ramped up. 20 TipTop search and rescue members along with assistance from Teton County Search and Rescue, US Forrest service, Bureau of Land Management, WYK9 our of Jackson Hole have deployed to the area. In addition Sunday morning approximately 38 self-deployed volunteers have arrived out of Utah and are self-searching in coordination with TipTop Search and Rescue operations.
Searching operations are still ongoing and more updates will be provided as we get them.