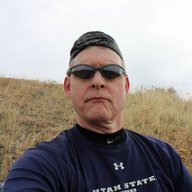 Joined

Dec 23, 2013
Messages

3,169
I hiked to the top of Millvue Peak this morning, and from Elbow Fork in Millcreek Canyon to the summit, the wildflowers were just tremendous. It was like a geranium highway along the trail. It's a great time to be up in the hills amongst it all. Here's some shots of the hike.
Scatman bounding up the trail.
I wish I could still bound!
The sun beginning to hit the Millcreek Ridge
Yarrow was plentiful today
Ragwort
Species of Paintbrush
Spreading Dogbane
Scarlet Gilia
Paintbrush
A mushroom along the trail
Clematis
View across the canyon of Mount Raymond, where we hiked to last weekend
Wild Rose
Horsemint - Popular with the Bumble Bees
Cow Parsnip
Western Cone Flower
View west, down Millcreek Canyon, from the Millcreek Ridge
A grove of Aspen ahead
Ninebark shrub
Wife and daughter making their way along the ridge with Church Fork Peak and Grandeur Peak as a backdrop
Wild Pea
Butterfly on some Ninebark
Stirred up this Grouse along the way. Scared me to death!
She had a young one with her too.
Butterfly on some buckwheat
Another species of butterfly enjoying the buckwheat on the summit
On Millvue Peak - I get the feeling we are all leaning to our left.
Arrowleaf Balsamroot - surprised to see this still blooming, it usually hits its stride mid-spring.
Anybody see the yellow spider on this Western Wallflower?
A good view of the western end of Millcreek Ridge from Mount Aire (R) to Grandeur Peak (L) with Church Fork Peak in the middle
Caterpillar's nest trying to hide from me
Cinquefoil
Lupine and Ninebark
False Sunflowers
The Bumble Bees just loved the Horsemint
The star of the show today was definitely the Geranium
Woolly worm of some sort
Yellows Salsify - The leaves of this plant are edible, and I snack on them along the trail if available
A look across the canyon and into Alexander Basin and Gobblers Knob
Thimble Berry
Aspen and Mount Aire, seen on our way back down