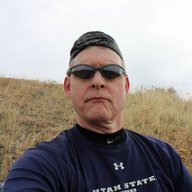 Joined

Dec 23, 2013
Messages

2,611
On Saturday July the 2nd, I'm planning on giving the Millcreek Ridge another go. The route is approximately 16.5 miles in length and begins at the Big Water Trailhead in upper Millcreek Canyon. I'll be hiking east for a couple of miles before I pick up the social trail that leads to the summit of Murdock Peak. From Murdock, it is essentially a straight shot west along the ridgeline all the way to Grandeur Peak, then down to the West Slope of Grandeur Peak Trailhead. I've recorded a few waypoints of the major peaks along the ridge, and the unnamed ones too. Some of the waypoints are of social/game trails that I need to pick up and stay on to avoid any lengthy time bushwhacking. When I attempted this seven years ago, losing the trails was a major reason I wasn't able to finish - 0.6 miles from the summit of Grandeur; along with my hiking partner running out of gas at the end.
I plan on heading up tomorrow morning to stash a gallon of water, and maybe some Gatorade, around the 10 mile mark so that I can refill my water bottles. I'm hoping for a little cooler weather this time out, as the last time it was 103 in the valley - not sure of the temps along the ridge, but it was a warm one for sure. I plan starting at roughly 4:30 am and getting some miles in before it starts warming up. The last time on the unsuccessful attempt, I began at 5:00 am and finished up around midnight at the Church Fork Trailhead. I'm hoping obviously not to spend so much time bushwhacking this time around, and cut down on my breaks, lunch and dinner times.
Get the helicopter ready
@Rockskipper
!
Route map - Waypoints are in yellow
And a KMZ of my waypoints is attached.