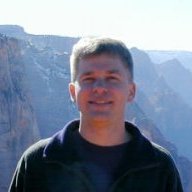 Joined

Mar 28, 2012
Messages

2,146
The Mill B North Fork trail is one of my favorites in the Wasatch -- instead of just following a drainage or a ridge it ducks in and out of several gullies, passes through different microclimates and kinds of vegetation, basically always seems to be doing something interesting. Also, it doesn't get that much traffic once you pass some of the overlooks lower down, I suppose because it doesn't exactly go anywhere and probably it has too many switchbacks for the fitness crowd. It works fine as an eight mile out-and-back (to the sign at the junction with the Desolation Trail) but is maybe better as part of a longer hike, the one that I've done most often is a lollipop route straight up Raymond and then down to Baker Pass, and back via the trail through Mill A Basin and Maxfield Basin.
Yesterday (Oct 8) the trail was snow-free down low, and mostly snow free until the last mile or so. At the trail junction there were 3-4 inches of snow and the trail was getting hard to follow at that point. I was wearing summer shoes and didn't feel like attempting the steep, off-trail route up to Raymond.
Steep terrain.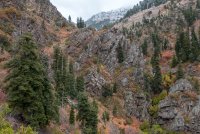 Mostly I didn't get good views of Cottonwood Ridge.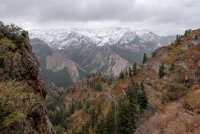 Pushing up into the snow.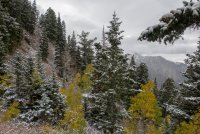 The twins were only visible for a few minutes.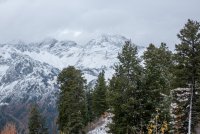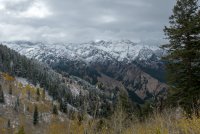 Some pretty good fall colors for a bit longer.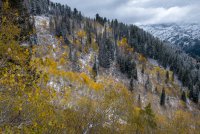 At the bottom of the photo, my pack leans against the sign marking the junction between Mill B North Fork and the Desolation Trail. Above, the upper slopes of Mt Raymond, but I think the summit is tucked away somewhere towards the left.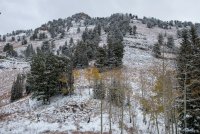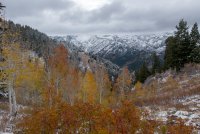 Looking up at Wildcat Ridge.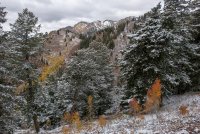 I love this part of this trail!