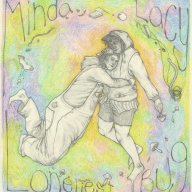 Joined

Mar 10, 2016
Messages

220
It has been a windy, rainy, cold start to the year so far. Makes for some GREAT visuals, but hiking is a mixed bag depending on exposure, although I was fortunate enough that there was plenty of sheltered hiking this day. I ran the dirt roads til I found just the right spot to start wandering around, and headed up alluvial fans blanketed in black volcanic rock for a mile, mile .5, til I reached slopes leading to benches above. Then I just bopped along, gaining and losing elevation to stay on easy benches above the valley below, and below the ridges above. That lasted for 3 hours or so til I had to come down to make the truck before dark. God I love the Mojave, mountains everywhere. Just in case you ever get that final jeopardy Q, most mountainous state in the contiguous 48 ? Nevada. More mountain ranges than every other but Alaska. And I believe that inch for inch, we actually beat them, just not nearly as large overall.
First top out. there's my route rolling along those benches for a few miles.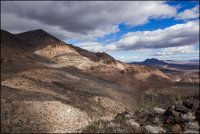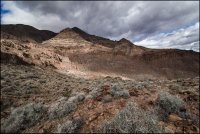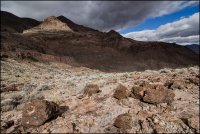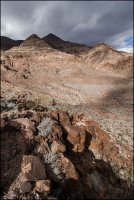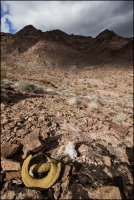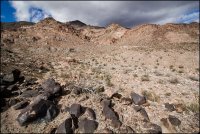 That rectangular white spot middle right is a guzzler, complete with a plaque commemorating the individual it was placed there in honor of.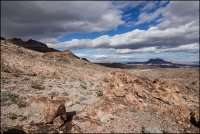 And one of hundreds of little natural (and short lived) guzzlers that come and go with rain and heat.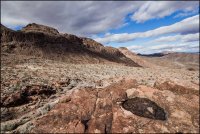 End transmission.